Since 2005, YouTube has been synonymous with video on the internet. When Google acquired the platform in 2006, it was only a matter of time before ads became a part of its ecosystem. Through many iterations and experiments, YouTube Ads in 2022 have become a streamlined and efficient way to reach your brand's audience with the message of your choice.
What are Google YouTube Ads?
YouTube Ads, or "video campaigns" as they are generically identified in Google documentation, are video advertisements that show on YouTube-hosted videos, as well as on websites and apps that are opted-in to the Google Partner network. Simply put, these are the web equivalent of television commercials.
Types of YouTube Ads
While TV commercials of yore mainly stuck to the 30-second or 60-second format, YouTube Ads come in a variety of lengths and placements. Here are the current options:

Skippable in-stream ads
These play before, during or after a chosen YouTube video. After a 5 second countdown in the corner, the viewer has the option to skip the video. While these ads are typically anywhere from 15 seconds to 3 minutes long, the option to skip explains the attention-grabbing, top-heavy style that is pervasive in online advertising. (Note that while these are traditionally referred to as "pre-roll" ads, Google no longer officially calls them that.)

Non-skippable in-stream ads
These play before, during or after a chosen YouTube video but – you guessed it – no skipping. Mercifully, these ads cannot exceed 15 seconds.

Bumper ads
Just like non-skippable ads, but even briefer. This fun, 6-second format gives brands the option to be clever, A/B test their creative or push out a message without the heavy upfront pre-production time.

In-feed video ads
These are static thumbnails of a video you are promoting and can appear next to related YouTube videos, in YouTube search results or on the homepage of the YouTube mobile app.

Outstream ads
Ads that appear in the wider Google partner network, not on YouTube. They can vary in length, but 1) they auto-play with the sound off and 2) are treated more like traditional display ads across the web.
If you already have access to video assets, they can easily be uploaded and used as ads. If you just have a brilliant idea but need help translating it to moving pixels, then we recommend talking to someone on thunder::tech's
Video & Multimedia
team.
Determining Your Campaign Objectives
Are you building brand/product awareness, looking to drive sales or moving into a new market? These are all common challenges in both business-to-business (B2B) and business-to-consumer (B2C) industries. Before jumping into things, we first like to sit down with the client and set clear objectives. From there, we can set achievable goals which will determine campaign direction and success. The campaign objectives determined here will be used in the first step of your campaign setup process.

What is your main advertising goal?
After defining your campaign objectives, you should set clear goals to determine campaign success moving forward. (This is, of course, assuming you know your business needs as well.) Be specific but make sure your goals are achievable. Below are some examples of achievable goals based on the objectives we mentioned previously.
Increase awareness by X% year-over-year
Increase form completions by X% in Q4
Increase direct traffic to the website by 10% during Q1
By setting trackable goals like those above, you can optimize and test your campaigns to improve performance and determine long-term success.

Select a Campaign Goal Based on Your Objective
After determining your objectives, goals and KPIs, the next step in the advertising setup process is to select the goal which will determine what ad types are available to you later in the campaign.
Sales: drive sales online, in app, or by phone
Leads: Get leads and other conversions by encouraging customers to take action
Website Traffic: Get the right people to visit your website
Product & Brand Consideration: Encourage people to explore products or services
Brand Awareness & Reach: Reach a broad audience and build awareness
App Promotion: Get more installs, interactions and pre-registration for your app
Local Store Visits & Promotions: Drive visits to local stores, including restaurants and dealerships
Create a campaign without a goal's guidance: choose a campaign type first, without a recommendation based on your objective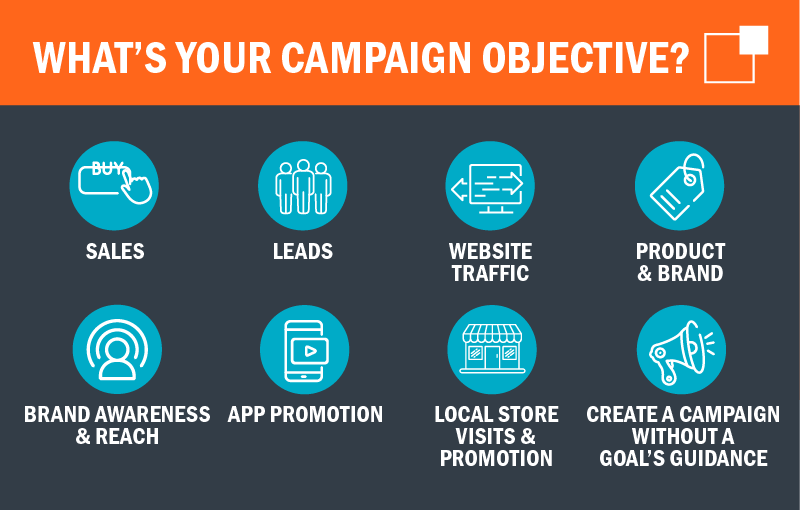 Campaigns and Campaign Subtypes: What Are the Differences?
By selecting sales, leads or web traffic, Google automatically determines that your main objective is to drive conversions.

Curious about which guided goal is right for your company? We suggest the following:
Sales for e-commerce sites where you are looking to drive purchases on your website.
Leads for companies that require a contact form or request for a quote to be completed.
Website traffic is a strong option for those companies that are looking to drive conversions but at the same time do not have strong forms or e-commerce capabilities.
Does your brand lack overall awareness? Are your competitors controlling the market share? Are you moving into a region or market based on business strategy? If you answered yes to any of these questions, then we recommend pursuing either product consideration or brand awareness and reach when determining the best guided goal.

By choosing a more awareness focused goal you are telling Google that the objective of the campaign is to increase the size of your audience or encourage people to explore your products and services.

Determining a Bid Strategy and Budget
There are no required minimums for a YouTube Ad budget. It's all a cosmic mix of industry vertical, ad format, competition, frequency, available inventory, time of day, geographic location, even device the viewer is using. Thankfully, Google provides planning tools to input all the aforementioned variables and find a daily spend that matches your goals and available funds.
~ We'll take this opportunity to remind you that thunder::tech's
Performance Marketing
team has years of experience in this realm. They are so excited to help you with it they wrote this blog post just to flex. ~
With a daily budget set, one of the last financial choices made is the type of bidding the campaign will use:
Maximum CPV (cost-per-view): The default and simplest bidding method. You determine the average amount you'd like to pay for each view of your ad. A "view" is counted when someone watches 30 seconds of your ad (or the duration if it's shorter than 30 seconds) or interacts with the ad (clicks on a call-to-action in order to learn more).
Target CPA (cost-per-action): You set the average amount you'd like to pay for a conversion. The system optimizes the CPC (cost-per-click) each time a viewer sees an ad, based on their likelihood to convert.
Campaign Targeting
A foundational aspect of digital marketing is determining where you want your ads to show. Target locations can vary greatly from broad options (global or national) to more granular options (ZIP codes or cities). In the campaign setup process, you will typically be presented with these options:
Country
Region
State
DMA (Designated Market Area)
County
City
ZIP Code

When talking to clients who want to advertise nationally but have a limited budget, we often encourage them to think strategically: Is there seasonality by region? Are you looking to launch a new product in a certain location? What is the overall awareness in this particular location? These types of pointed questions encourage the client to focus on potentially profitable locations that align with the overall business goals. Google also provides helpful tips for those seeking more details.


Location Exclusions in Google Ads Campaigns
An often-overlooked task, location exclusions can optimize campaigns in ways not possible prior to digital advertising. For example, let's say a campaign has been running for two months and your original location targeting was the entire state of Ohio. Upon analyzing the data, you discover that conversions are only occurring in Cleveland and Columbus. Despite this clear win, your analysis also reveals that one third of the budget was spent in Cincinnati, with no conversions. By excluding Cincinnati in future advertising, you can focus spend on the locations that are providing the highest return on investment (ROI).

Like choosing the location you want to target, you can choose to exclude locations by country, DMA, state, region, city, ZIP code or county.


Content Type Exclusions in Google Ads campaigns
To avoid
serious issues
Google has dealt with in the past, the company has provided better tools for deciding what types of inventory your ads run against. The options are as follows:
Expanded inventory is going to provide you with the highest amount of inventory potential for your ads. This inventory type excludes extremely sensitive content, such as excessive profanity, graphic sexual content and nudity, and graphic violence and serious injury.
Standard inventory is the recommended choice by Google and our team as well. This option will show your ads on content that Google deems is appropriate for most brands. However, this inventory type will limit your maximum available inventory. This excludes the same content as Expanded inventory, but also adds repeated strong profanity, strong sexual content and discussions of sex, and violence either real or dramatized.
The last and safest inventory option for brands is Limited inventory. This option excludes most types of sensitive content and limits the potential channels and videos where your ads can show. It is important to know that even though Google says these inventory types will exclude sensitive content, there is still a chance that some content may not be excluded.
Devices
Device exclusions are a great way to remove your ads from select devices, operating systems, models and networks. Using data from Google Analytics, we recommend optimizing your campaign from the start based on your audience's most used devices, networks, etc.

Frequency Capping
Another oft-overlooked lever,
frequency capping
is the action of setting a limit to the number of ads a user sees in a day, week or month.
There are two reasons why we recommend adding frequency caps. First, you force Google Ads to search for new users who have not hit the frequency cap you have in place. Second, it's important to think about the user's experience with your ads. A frequency cap will ensure that your ads do not repeatedly play to the point that they induce ad blindness. In many situations, when your ad plays repeatedly it can become a negative experience to the point where the user is frustrated with your ads and your brand.
You can set a frequency cap at daily, weekly and monthly intervals, but our recommendation is to keep your frequency cap between 5-10 impressions per day and optimize from there. We don't recommend an impression cap at the weekly and monthly level because the rate at which a user watches videos on YouTube can vary over those time periods.
Ad Schedule
The final exclusion option in the campaign setup process is the ad schedule. Without strong data from prior campaigns or research we recommend not changing the ad schedule during the setup process. If you do have data, feel free to set a schedule for when your ads should show. You can set your ad schedule by day of the week, time of day or a combo of both. If your campaign has been running for more than 1-2 months, we always recommend optimizing your ad schedule based on results.

Building Your Ad Groups
By now you've determined the basics of your campaign setup including budget, bid strategy, content exclusions and ad scheduling. It's now time to build your ad groups.

An ad group in Google Ads contains one or more ads that target a similar audience. Most campaigns contain multiple ad groups. For YouTube advertising we generally recommend separating ad groups by their targeting options, messaging, theme or combo of each.

YouTube Ad Targeting Options
What makes YouTube ads so great are the targeting options available. For each ad group, you can determine who you want to reach and where you want your ads to show, allowing you to target the right audience at the right time.

Demographics
The broadest targeting options available are demographics. Demographics allow you to reach an audience based on their gender, age, parental status or household income. This targeting option may provide the largest reach, but it may also provide the lowest ROI/engagement because you're targeting a large audience with a single message, some of whom might not care to see your ads. Often, we pair this targeting option with another or add it to the ad group from an observational standpoint to understand our audience's demographics better.

Audiences
Audiences have come a long way with YouTube advertising and targeting in general in Google Ads. Audiences can be created and imported from Google Analytics or created within the audience manager inside of Google Ads. For this blog we're going to focus on the audience manager inside of Google Ads. The following audience types are currently available:
Demographics – provides you with the broadest audience and most reach
Affinity and custom affinity – reduce your reach slightly but allow you to reach your target audience when they've begun to show interest in topics relevant to your campaign
In-market, custom intent and life events – great for reaching users who are searching for a specific product/service. This option is more targeted, but it tends to have strong engagement
Remarketing and similar audiences – great at reaching users who didn't convert, have visited a specific page on your website or who are very similar to your current audience

The best practice is to test different audience targeting options to determine which one provides the highest ROI and the best engagement. We've seen great success with custom affinity audiences and custom intent/in-market audiences so if you're confused on where to start, this is a great place.

Keywords
Unlike paid search campaigns, keyword targeting is strictly contextual for YouTube ads. By choosing keywords as a targeting option, you can place your ads on channels that are contextually similar to your keywords. For example, if you choose "tourism" as a keyword to target. Your ads will then be placed on YouTube channels or videos that are related to the keyword "tourism."

Topics
Similar to keywords, topic targeting is also contextual. Topic targeting allows you to place your ads on channels, videos or websites that are related to the topics you've selected. In general, topic targeting is quite broad and will give you a large reach. From what we've experienced though, the engagement is quite low from topic-based targeting.

Placements
Placement targeting allows you to choose specific channels, videos, websites or apps for your ads to show on. Choosing popular videos and channels that relate to your audience is a great way to raise awareness or drive product/service consideration within your audience. Placements are a great option once you develop a general understanding of what your audience watches on YouTube. Keep in mind that it's best practice to pick at least 50 placements when choosing this method of targeting.

Lights, Camera, ACTION!