Integrated marketing has moved past a buzzword thrown around at industry conferences and has evolved into a viable agency marketing model due to the need for increased speed, integration of skill sets and a lack of client side resources. However, it is a term that needs more clarification about its complex definition, especially on the agency side.
But first, before you can understand what an integrated agency is, you must understand what integrated marketing is and why it's important for brand recognition and campaign success.

What is Integrated Marketing?
Integrated marketing is a holistic approach to marketing that includes all general communication and promotional disciplines including branding, advertising, design, digital and communications.
Similar to omnichannel marketing, integrated marketing is an approach to marketing that uses several tactics for reaching consumers. Few, if any, brands use only one method of communication in a campaign anymore. Rather, it's become the norm to invest in display ads, social media ads, affiliate marketing and other types of digital advertising all at once.

What Goes into the Integrated Marketing Mix?
An integrated marketing mix is the combination of channels and services that when put together help construct a holistic digital marketing strategy. Any common combination of services in the digital marketing landscape could be considered an integrated marketing mix so long as they are working together. Common combinations like search engine optimization and email marketing can help grow your newsletters, where videography and social media management can help grow your following. Even combinations like PR and Marketing can come together in an integrated agency to yield spectacular results.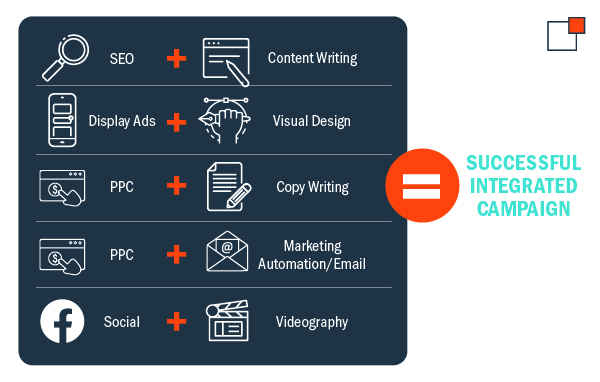 Common Services Include:
Search Engine Optimization

Pay Per Click Advertising

Organic Social Media Management

Paid Social Management

Marketing Automation

Creative & Graphic Design

Web Development & Web Design

What is the Goal of Integrated Marketing Communications?
Quite simply, integrated marketing communications is all about meeting the customer where they are. Rather than simply only advertising in one channel, an integrated agency would have the capability of creating high quality user experiences across several channels. With the technical support of a web development team, creative spark of the designers, and the marketing know-how of subject matter experts an integrated team is best for ensuring your brand is fully promoted on the web.
Integrated marketing usually brings to mind the combination of multiple communication channels for a campaign like print advertising, social media and in-store efforts. While this is true, it is just the tip of the iceberg for integrated marketing. Also consider the integration of skills within a single channel. For instance, an integrated email marketing campaign can require a user experience designer to lay out the template, a designer to apply the visual theme, a programmer to tweak the code, a videographer to create the interview that is embedded in the message, a writer to create the copy, an analyst to make sense of the metrics and an account manager to make sure it all comes together on time, on budget and meets the target audience's needs.
What is an Integrated Marketing Agency?
An Integrated Marketing Agency is simply an agency who specializes in several digital services and can produce results on a holistic strategy that takes advantage of the key strengths of different channels.
An integrated agency has distinct skill sets that can be combined to produce better and typically, more efficient results for their clients. Due to its talent and production model, an integrated marketing agency focuses on solution versus service delivery.
For example, an Integrated agency could effectively launch a PPC campaign for your brand, then take the leads generated and nurture them with an email campaign. The integrated agency would have an in-house staff of account managers and subject matter experts to effectively deliver on this cross channel strategy. The way in which teams come together is a critical aspect of success for integrated agencies.

These are some signs of a true integrated marketing agency:
The ownership structure is the same, regardless of the offerings and its departments are judged on more than their P&L. These approaches allow for a financially viable approach that keeps departments and divisions fighting over their interests versus the clients'.
Even large integrated marketing agencies can't do everything, so make sure only nonessential services are outsourced.
The agency's work is balanced across disciplines which includes portfolio worthy work, awards and certifications.
The length of time different skills have resided at the marketing agency should be the same or independently significant.
The headcount is fairly even between the multiple disciplines inside the agency. This will lessen the need to sell one service over others because more costs need to be covered due to headcount.

The Benefits of Working With an Integrated Agency
Why should your business choose an integrated marketing agency? There are several benefits to partnering with a true integrated marketing agency, including:
1. Nimbleness and flexibility
An integrated marketing agency tends to be more nimble because of the diversity of skills at their disposal. This agency model can allow the firm to look at issues and opportunities through a more neutral lens since there are many ways to assist and serve changing client needs over the long term.
When an integrated marketing agency can supply most or all of the skills across the marketing spectrum, it's a more efficient approach for the client in respect to managing consistency and use of time and budget resources.

2. Keeping your message top of mind
Working with an integrated agency also puts your campaign message top of mind as users interact with your brand at multiple points throughout the day. Seeing the same or a similar message on a social media ad, then a YouTube ad, then a sponsored LinkedIn InMail post will do wonders for brand recognition over choosing one outlet for campaign distribution.

3. Consolidating all marketing efforts under one roof
Finally, working with an integrated agency is like working with a one-stop-shop. Rather than going from agency to agency hiring one for content writing, another for PPC and yet another for SEO, you can get everything done in one place. You'll also have one dedicated team sharing information and ideas working on your campaign instead of several separate entities.
As marketing evolves, more agencies will have to become truly integrated to survive or they will need to narrow in their service offerings all together. It's important for a client to understand the difference in order to choose a long-term agency partner that will help them succeed year over year.
Editor's Note: This post was originally published in September 2009 and has been updated for accuracy and comprehensiveness updated June 21, 2017 and again on February 25, 2022.