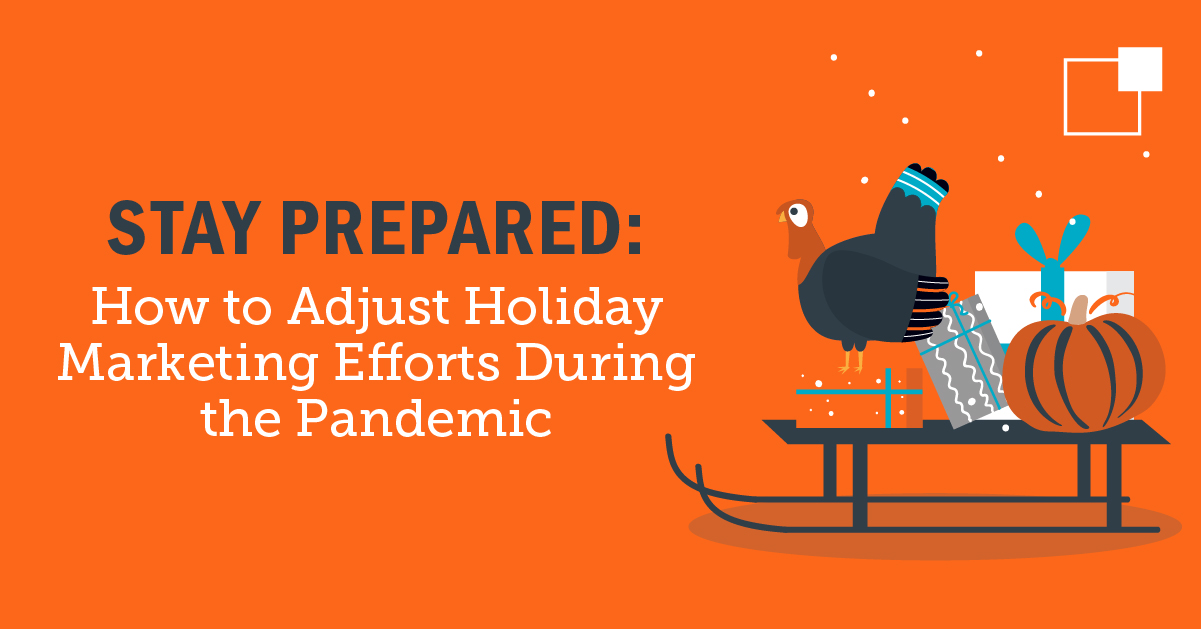 The impact of COVID-19 has led to strange times for marketers. We're seeing new paradigm shifts every day, and at thunder::tech, we are working hard to help you navigate its impact on your business. This content is one of many resources we are creating for marketing and management in the midst of the coronavirus.
Consumer brands usually have a lot on their plate during Q4, but the holiday season this year is looking even more complicated with the pandemic. Over the next 3 months, marketers are set to contend with:
COVID-19 and the constraints that it has placed on consumer shopping
An uncertain economy, still a mixed bag of results that's largely dependent on industry
Weather is always a constant in Q4, but this year it will exacerbate certain shopping decisions, especially with delivery and e-commerce.
A second wave of pressure on e-commerce. Remember, in Q2, U.S. e-commerce sales grew by 30% as physical storefronts went on lockdown and consumers stayed home. Analytics firm App Annie is already forecasting consumers will spend 50% more time on mobile shopping apps in Q4 compared to the year prior.
Continually changing consumer behaviors related to the meteoric increase in home delivery and digital shopping. For example, during the pandemic, over 80% of Gen X and Boomers are now shopping online.
If you thought the holidays were tough last year, welcome to 2020! To help you embrace these challenges with open arms and prepare for a weird holiday season, we've compiled a rundown of the holidays remaining in 2020 with thoughts on how to adjust for each one. Onward!
October
Amazon Prime Day
Amazon Prime Day
is a two-day event with discounts and deals on tons of items sold on Amazon. The catch is that these deals are only available to Amazon Prime members. This year's Prime Day will last two days and likely eclipse prior year's sales records.
Prime Day 2019 generated $2B in sales, so consumers are well-acquainted and ready for this holiday. Brands should be ready as well with appropriate promotions and marketing efforts.
10.10 Day?
10.10 Day is a new sales holiday that Prime Day could lead with many other retailers latching on. This sales holiday is designed to give retailers and brands a better sense of end-of-year holiday demand, smooth out any issues with supply chain and shipping problems caused by COVID-19 and help them pull forward more sales revenue. While 10.10 isn't official yet (it's still being discussed by a confederation of retail groups), brands that aren't on Amazon should be ready to swing into action if it gets the green light.
Halloween
Will parents let their kids run around their neighborhoods to strangers' homes for free candy in the midst of a pandemic? You betcha.
According to a Harris Poll survey
conducted in June for the National Confectioners Association, 90% of millennial moms and young parents and 80% of the general public "say they can't imagine Halloween without chocolate and candy and trick-or-treating is irreplaceable."
Like many of the cancelations and shutdowns related to the pandemic, whether we have actual trick-or-treating will likely come down to a local patchwork approach, but that doesn't mean brands should shy away from the holiday. From the same poll above, "74% of millennial moms and young parents say that Halloween is more important than ever this year," which paints a picture of the average American family right now. Everyone is looking for distractions from the pandemic to provide a little pre-COVID normalcy and give families something to look forward to. It's also possible that Halloween this year may pivot from costumes and candy to more of a gift-giving event that can be celebrated privately in-home.
Many events will be canceled or modified, but the spirit of the season should still be embraced by brands that want to stand out. Your Halloween marketing campaign should definitely be a "go."
November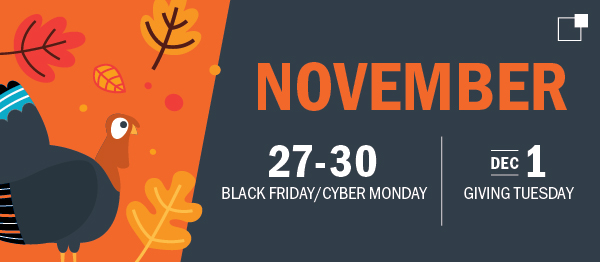 Holiday shopping won't suffer any crushing blows this year, but it will look different.
According to Facebook Business data
, people who shop on mega sales days (Black Friday, Cyber Monday, etc.) are still likely to spend more, shop on mobile and buy gifts for themselves while holiday shopping. It will still be important for many consumers to come together and share gifts with loved ones this year, and brands that adapt and authentically inspire this point will win the holiday season.
Thanksgiving (AKA Black Friday through Cyber Monday)
Will consumers still rush to a physical store for a deal during a pandemic? Short answer: Yes. Customers will still come out, but we believe a lot less of them will be rushing the front door. Consumer behavior this weekend will heavily depend on where they live and how they feel about crowds during the virus.
Many major retailers have already announced that they will close on Thanksgiving, reversing a trend that has been increasing in recent years. This will push more physical shopping (for those comfortable doing so during the pandemic) to the traditional Friday, Saturday and Sunday of that weekend. With this, the market can anticipate
digital ad spend
at record levels. This spend, in turn, may lead to a rise in customer acquisition cost (CAC) for smaller retailers.
We also expect more creativity through new approaches during this period. For example, Home Depot announced that they will stretch Black Friday specials out for almost two months. They also stated that their promotions will run first on the brand's mobile app, aiming to further train their customers to adopt more digital means.
According to 2pml.com
, a paradox for Black Friday and smaller retailers is that the gross merchandising volume (GMV) in online retail for the month of November will achieve a record high. Much of this will likely be due to the big box stalwarts (Walmart, Best Buy, Target, Dick's Sporting Goods and Amazon) deciding to emphasize e-commerce before (and potentially on) the biggest shopping day of the year. Smaller brands and retailers will have to fight to be noticed closer to the end of November.
Giving Tuesday
This has been a tough year for our nonprofit friends. Normally, leveraging the popular #GivingTuesday hashtag is an easy addition to your fundraising calendar (although it's getting tougher to break through as more organizations join in). We predict that it will be even tougher this year as so many nonprofits are hurting and will be all fighting for attention at the same time.
We recommend launching marketing efforts much earlier to gain attention during this increasingly important donation period.
December
End-of-year holidays (Christmas, Hanukkah, New Year's Eve)
We'll start by saying it's safe to assume that shipping will be an absolute nightmare this year. Strategize how you will counteract this, especially for smaller brands that can be more flexible and creative during this time.
Additionally, anticipate that the deals, promotions and general noise around in-person shopping could reach a crescendo this year as every physical retailer is fighting for a decent end to their calendar year amidst growing bankruptcies and substantial headwinds for the category. You can also
watch online for challenger shopping sites
to use some of the marketing power they gained from a stronger-than-expected year to breakthrough and thus, create even more noise and competition.
"Self-gifting" is expected to rise as consumers treat not just loved ones, but themselves after a tumultuous year. Try positioning your brand around this point to give consumers permission to splurge on themselves this year.
And finally, watch for the rise of the Q5 holiday season for retailers. If you haven't heard of Q5, it is the roughly 15 shopping day period before the holidays where shipping volume will complicate on-time holiday deliveries and the 15 days after the holidays when many consumers are at home and the promotions have died down. This period allows for physical retailers to catch up as well as advertisers to take advantage of falling ad rates. Use Q5 to your advantage this year, keeping a close eye on your competition and any changing consumer behaviors.
The 2020 holiday season will be different - more digital across the board and certainly filled with more promotional noise, all taking place alongside the fatigue that the pandemic and societal issues are creating in our lives. Supply chain and shipping disruptions are opening the door to alternative brands and outlets like never before, and consumers are finding these new options online.
Over the next three months, brands need to thread the needle and take advantage of changing consumer habits. Adjust your strategy to reflect holiday shopping forecasts and plan eye-catching campaigns in advance to better cut through the noise.
Oh, and remember to have fun along the way. Happy holidays, marketers!
WE'RE MAKING THE PLANNING PROCESS EASIER WITH CONTENT MADE SPECIFICALLY FOR MARKETERS TO HELP YOU COME OUT ON THE OTHER SIDE OF THE PANDEMIC UNSCATHED. TAKE A LOOK AT OUR COVID-19 RESOURCES PAGE HERE.