The leaves are changing colors; does that mean you should also be changing your brand colors? With fall quickly approaching, incorporating elements of the upcoming season is a great way to stay relevant and relatable to your audience. Adding seasonal colors to your creative and social media can be fun, but it's also important to remember not to stray too far from the core pieces of your brand and potentially confuse your customers. As big fans of pumpkin spice everything and ~spooky~ season, we are here to help you find that perfect blend of seasonal inspiration and stick to your brand guide.
Finding the perfect color palette
Your brand colors are essential to your identity, but that doesn't confine you to using those colors exclusively. A great way to add a hint of fall to your existing brand palette is by choosing a color theme. This doesn't have to be the traditional brown, black, orange and yellow mix; it could simply be turning your current colors into darker tones or hues. Additionally, mixing in pastels can give you that perfect "pumpkin spice" feel that customers are craving.

But remember not to stray too far from your original brand colors as you want to stay recognizable to your audience and stick with the branding that defines your company. Deciding on a theme at the beginning of the season can help keep things consistent when designing later. A few of our favorites include using colors inspired by the changing leaves, adding warm purples like burgundy and maroon or sticking to traditional oranges but with softer, pastel shades that won't overpower the design.

For example, when it comes to fall colors at thunder::tech, we are lucky thanks to our iconic t::t orange, but there is still an opportunity to further the fall feels. Check out how we shift our palette for the season.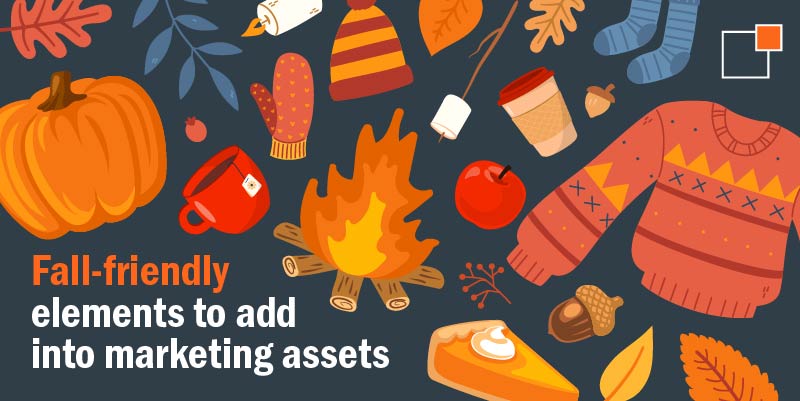 Adding textures and patterns
Color is just the beginning when it comes to incorporating seasons into your marketing efforts, but if you aren't interested in changing your color, try adding fun patterns, textures or symbols. Examples of elements and textures that can be used are wood grains, leaves and knit sweaters. You can apply this strategy to social media, websites, email, and advertising.

Patterns or additional graphic symbols that are autumn-esque can also make things fun for the season. They can include items such as fireplaces, coffee mugs, pumpkins, trees and beanies, anything that evokes the feeling of a cool fall day. You don't even need to change your color palette, simply take a fall element and color it in your brand's original colors. This way, you are sure to stay recognizable but not miss out on the season.

Just be sure to stay consistent with the elements you choose to incorporate and not go overboard with including too many features. This way, the graphic won't become too busy, and you won't lose track of what you were promoting in the first place.

Time Sensitive Promos
I'm not sure about you, but when I hear that the iconic Pumpkin Spice Latte at Starbucks is back, I'm one of the first to bolt over to the closest store to get my fix (and I'm not even a dedicated Starbucks customer). But there is something about the fact that PSLs are limited edition that makes me a loyal follower of the seasonal drink, and I'm not the only one. Themed promotions that are only available for a short period of time create a sense of urgency that customers need to get there before they disappear. In addition to the increased need, it also distills consumer excitement. They must wait all year for the promotion to come back, keeping your brand at the top of their mind while they wait.

Seasonal deals are a fantastic way to embrace autumn. The promotion doesn't just need to be a fall-themed product; it could also include a cold weather clearance sale or unique service offering that only happens once a year. The opportunities are endless; get creative with ways your company can get involved.
The Dos & Don'ts
DO -
If the majority of your consumers are American, use fall as a time to thank them for their loyalty and support throughout the year. Thanksgiving is a great opportunity to show your appreciation to the community and give back some of that love while also promoting customer loyalty. One way to do this is by having a "thank you" sale leading up to the holiday.
Stay in the know and utilize seasonal pop culture references. Is there a trending meme going around about the latest scary movie coming out? Work this into your social media calendar so that you can stay relevant and engage your audience.
Utilize user-generated content (UGC). Fall is picturesque, and customers know it. There is an abundance of fall photos out there that your audience is posting, and this is a great opportunity to engage them with your brand. For example, take a poll asking your followers about their favorite fall activities or have a costume contest where people must dress up like your logo.
DON'T -
Limit your marketing to promoting Black Friday sales. You need to set yourself apart from every other brand that is throwing a Black Friday sale otherwise, you will get lost in the black sea.
Ignore your brand guide just to participate in the fall fun. Not only will it confuse your audience, but you will also come across as inauthentic.
Overuse stock photos. You don't want to be the one posting another stock photo of a pile of leaves or a pile of pumpkins, it's been done before, and you can do better. Instead, follow our tips about incorporating key elements or textures.
Switch seasons too early. Nobody wants to think about freezing temperatures in late September. We don't need to jump ahead to talk about winter or the upcoming holidays; there is plenty of time for that later on.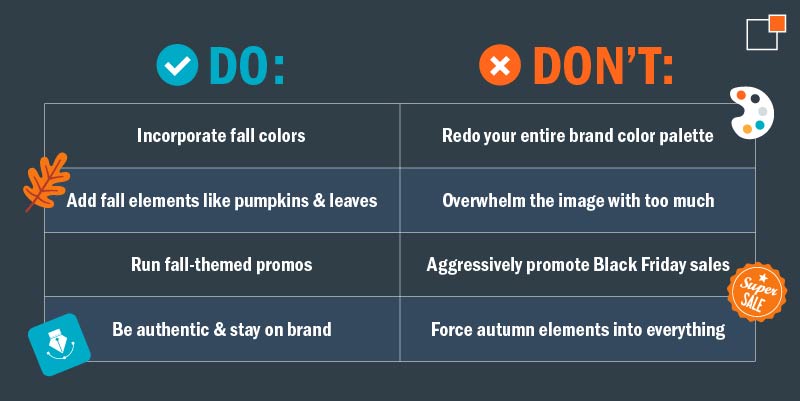 There is an abundance of ways to incorporate the fun of fall into your marketing, and lucky for you, these strategies can come in handy all year round. But you mustn't forget to keep your brand guide at the center of your work so that you can stay consistent across all your messaging. Have a great fall y'all!
Does all this sound intimidating? Our graphic designers are experts in their field and would love to help you develop the perfect brand elements that fit your style. Just send a message our way!