Email marketing is a popular medium for companies of all shapes and sizes to use to distribute content...yes, even in 2019. However, many companies rely solely on newsletters, special events or one-off emails for their email marketing efforts instead of planning for the long term. Often times this is because of the time that it takes to make an effective email let alone campaign. One email generally requires design work, copywriting, device optimization, email service provider optimization and analytics.
There is a more efficient way to offer targeted emails without putting the time and effort into each send. Email automation is the ability to send pre-built emails based on a set time/date or action-based trigger. Did you know that automated email messages average
70.5% higher open rates and 150% higher click-through rates
than "business as usual" marketing messages? That's because automated or triggered emails help your brand reach the right people, with the right message at the right time. The good news is, there are five easy campaigns that you could be using today to improve your relationship with your subscribers and take some of the email burden off your team:
Welcome/Onboarding Campaigns
Promotions/Birthdays
Event Promotions
Reminders
Drip Campaigns
Don't have time for the whole article? Bookmark us for later and check out our handy infographic!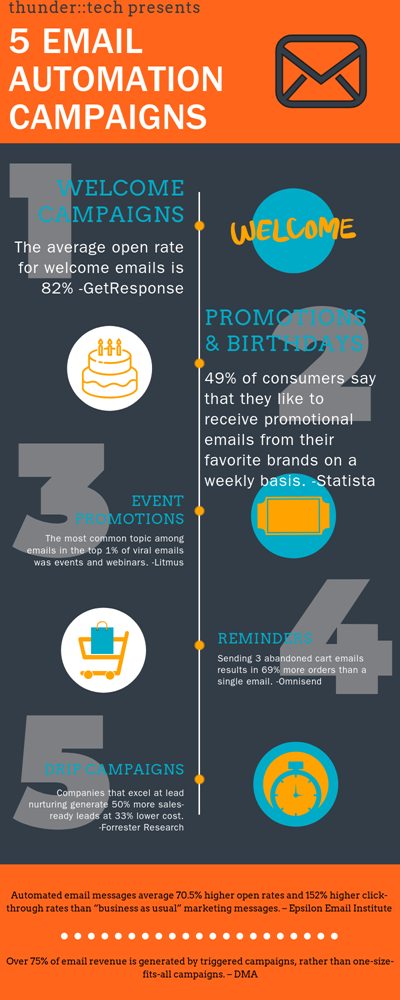 Welcome Campaigns
Welcome campaigns are often used when someone subscribes to newsletters, makes a purchase or joins your community in some other way. The welcome email will serve as an immediate touch point with the purpose of making the consumer feel like they are a part of a larger community now. Since this email is triggered from an action that showed the consumer wanted to be apart of the community, the open rate is typically higher. GetResponse performed a study that showed welcome emails have an average open rate of 82%.
A secondary purpose for a welcome campaign is to gain more information about the subscriber. Often times subscription forms are short and simple to encourage completion of the form. The welcome email is an opportunity to gather information that you may have missed on the form.
What you'll need to get started:
For all five campaigns you'll need an email marketing platform with automation or trigger capabilities. For a welcome campaign all you'll need is an email address and a trigger point for the email, such as when they subscribe to your newsletter.

Promotional and Special Occasions
How many times have you redeemed a promotion or discount that was offered to you for your birthday? Personally, I look forward to the Texas Roadhouse birthday coupon every year. Birthdays are a great opportunity to gain repeat business, and birthday emails are one of the most effective email campaigns. Birthday emails generate 342% higher revenue per email than promotional emails according to Experian. It's best practice to offer a gift or promotion in the email, after all everyone wants a gift for their birthday!
Similar to the birthday emails are promotion emails. These can be product focused emails based on the consumer's behavior on your website or past purchases. These can also be flash sales or just general seasonal promotions. For B2B companies this can simply be another tool to build a connection with your audience. Studies performed by Statista show that 49% of consumers say that they like to receive promotional emails from their favorite brands on a weekly basis. Some popular examples include Amazon Prime, Bed Bath & Beyond and Bath and Body Works promotional emails.
What you'll need to get started: Before setting up either of these campaigns, you'll want to decide on which offer you are going to provide in the emails and how long it will be valid for. For birthdays, you'll need to make sure you are collecting your lead's birthdays at some point. This can be at the point where they opted-in to receive marketing communications. You'll also need an integration with your website and ecommerce management platforms.

Event Promotions
Do you have an event coming up? Schedule a series of emails to your audience promoting the event! The most common topics among emails in the top 1% of viral emails were events and webinars according to Litmus. These emails are also great opportunities to encourage your audience to forward and share the event. This can lead to increased metrics and ideally an increased audience. Post-event promotions are just as important. Schedule a series of post-event emails and plug in the list of attendees and you're good to go! This can include surveys, upcoming events, links to subscribe to other marketing materials and more.
What you'll need to get started:
For large events, we recommend having a plan in place at least six months in advance so that you have time to build out some pre-event invitations and hype emails and then have the post-event thank you's, surveys and additional information emails ready to send to event attendees.

Retail Reminders
Let's face it, people are forgetful. Whether it's about an appointment, renewal or just about something we considered buying. Help your audience out with automated reminder emails! Have you noticed that people tend to fill up their shopping carts but not check out? Send them an abandoned shopping cart email with a coupon if they check out now. I've fallen victim to many abandoned shopping cart mails. Omnisend research shows that sending three abandoned cart emails results in 69% more orders then a single email. It proves that your mother's constant reminders are not her nagging you, just smart messaging!
Do you offer a product or service that has a lifespan? Send a reminder for renewal or suggest a replacement product. Urgency is important here and you'll want to set up a series of emails all the way up to the deadline.
Be honest, how many of us have missed an appointment of some kind? Help your customers remember their appointment by setting up triggers to remind them up to the day. According to the Annals of Family Medicine, 23% of patients don't show up unless they are reminded about their appointment.
What you'll need to get started:
If your email marketing platform is integrated with your appointment management system you can build triggers for email reminders to send at a predetermined amount of time before the appointment. For retail reminders such as abandoned carts, you'll need to integrate your email marketing platform with your e-commerce management platform.

Drip Campaigns
A drip campaign is a method used to acquire customers through lead nurture programs. It involves sending marketing information to prospects repeatedly over longer periods of time in order to nurture prospects or leads through the marketing funnel. Businesses that use marketing automation to nurture prospects see a
451% increase
in qualified leads.2
A popular use of drip campaigns is a post trade show drip campaign. Do you come back from a trade show with more leads than your sales team could possibly get to right away? Set up a drip campaign to keep your brand top of mind while your sales team works through the leads. This is also a way for your sales team to determine hotter leads to prioritize based on their interaction with the drip campaign.

What you'll need to get started: To start a drip campaign you'll need to start by defining a goal that you wish to meet by the time a lead makes it through the whole campaign. Next you'll need to decide what action is going to be the trigger for someone entering this campaign. The next two steps are just deciding how many drips or emails you'd like to include in the campaign then creating those emails. Finally, you'll need to decide when to take a lead out of the campaign, will you have an early exit trigger such as a form fill?
There you have it, these are five easy email automation campaigns that you can start using today. Once you get the hang of setting up an email automation series it can be easy to start adding more and more. However, you'll want to be careful that you don't have too many emails going to your subscribers. Overlapping drip campaigns and email automation campaigns can cause too many emails to go out and therefore cause some subscribers to get annoyed with your brand. No worries though, most platforms will allow you to set an email fatigue rule to prevent your subscribers from receiving too many emails per day and week. When you're faced with the question, "Should I start implementing email automations?" just remember that over
75% of email revenue
is generated by triggered campaigns, rather than one-size-fits-all campaigns.
For more information about how thunder::tech can help you get started contact us today.