Ahh, that perfect instance when your ad is served on a silver platter to a prospect who needs your exact offering at that exact moment. It's like magic.
Creative targeting
can get you eerily close to that sweet spot of meeting a customer's needs at the perfect time. And luckily, there are a ton of tools and methods available to help you get there.
Enter geotargeting, an advertising tool that involves using the audience's physical location to target them with specific ads. Next time you receive a push notification from a store's mobile app for a 50% off coupon when you walk in their door, you can blame geotargeting. But how can you harness the power of location-based marketing for your own brand?
What is geotargeting?
Geotargeting is a form of marketing where a geographic boundary is placed around some sort of physical location, usually a city, state or region.
This
advertising strategy
allows you to serve your ads to a specific group of people based on their location. It's especially useful for weather-based marketing, local business marketing or marketing to a large area at a specific time, i.e. after a natural disaster.
Geotargeting vs. Geofencing
Geofencing is a form of location-based marketing where a geographic boundary is placed around a more specific, often smaller location, whether it be a store or a hotel or other point of interest like your grandma's backyard.
When someone enters the boundary with their device like a cell phone, laptop or tablet, the geofence triggers different ads or events. This means the person who walks into the marketing convention will see your ads as opposed to someone who makes a living herding goats in Siberia.
For clarity, geofencing creates a radius or boundary where ads are served while geotargeting serves ads within a general location, usually a city, state or region. Because it's unlikely that you'll be physically attending a large gathering or convention in current times, this article's main focus is on geotargeted ads.
Types of Geotargeted Ads
The ad or event triggered by someone using their device within your geotargeted boundary varies depending on what you choose. Popular forms of geotargeting include banner ads, Snapchat geofilters, app push notifications and paid
social media advertising.
You can also create and deploy customized, geotargeted website content that displays different web pages depending on a user's location. This can be as small as changing a paragraph or word or as big as creating a custom landing page with a specific video directed only at users within a specific area.
The Benefits of Geotargeting
Geotargeting is a key tool in the era of custom advertising that helps serve users the right content at the exact right time.
Here's just a taste of the benefits of geotargeting or geofencing your advertising efforts.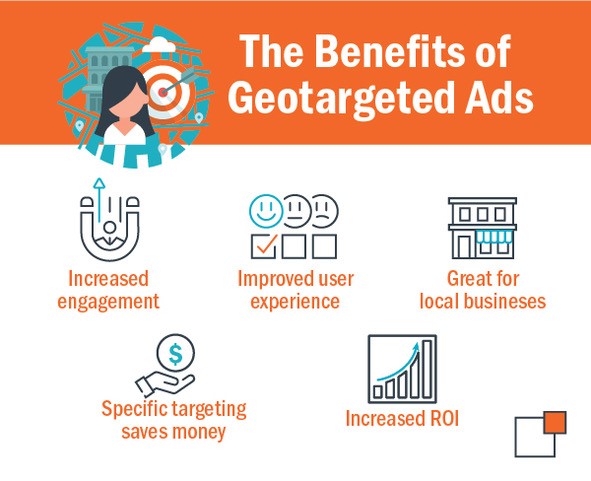 Increased engagement
Like we said, it's all about serving people the right content at the right time. Personalizing and customizing what you show your customers better catches their eye and has a better chance of reaching them when they're most interested or ready to purchase, making them more likely to engage with your ads.
Improved user experience
The quintessential example of geotargeting, at least in our experience, is based on weather. Serving snowplow ads to warm climates won't get you any sales and it's generally a waste of your ad dollars. It's also extra annoying to consumers to be shown an ad that's completely irrelevant to them in every way, shape and form. Keep your goodwill high by targeting your ads only to those who need them.
Local business promotion
Geotargeting (and geofencing) is a key tool for local businesses whose target audience lies in the immediate area. For example, a used car dealer's primary interest is in their surrounding community, maybe up to an hour or so out. People usually want to test drive cars before buying and want to visit dealers in person. Geotargeted ads can help the dealer promote specialized events or promotions to the audience that cares most.
Specific targeting saves money
Back to our snowplow example. Geotargeted ads save you money and make it harder for you to overspend because you can avoid targeting people who never see snow. Keeping your wintery ads out of Florida and specifying your targeting in Minnesota helps keep your budget in check.
Increased ROI
All of the above, personalized content, increased engagement, improved experience and less ad spend, leads to increased return on investment. And there's nothing better than a solid bottom line.
How to create geotargeted ads
Creating geotargeted ads requires the use of a platform that can use specific coding to pull a geolocation database for you based on your parameters. Here are several categories of platforms that we've used in the past.
A geotargeting-specific platform
Platforms like Weather Ads and DemandLocal are made for geotargeting ads. We especially love Weather Ads' ability to target the audience based on the weather that specific day. If you run an outdoor sports complex, you can opt out of having your ads shown whenever the weather drops below 70 or the sun stays behind the clouds. The filters on this platform are great tools for location-based targeting.

Programmatic display platforms
If you're already running programmatic display ads, you can go back into your platform and specify location-based targeting options. Use your programmatic platform or partner to make these changes. If you aren't sure where to start on programmatic advertising,
click here for an overview.
thunder::tech used our programmatic display partner,
Centro
, to create geotargeted ads for the Ohio Travel Association during their conference. Anyone who stayed in the area where the conference took place received targeted ads about OTA.
We have also used programmatic display ads with another client,
Leprino
, for a recruitment campaign targeting the area near their large manufacturing facility.
Google Ads
Tried and true, Google Ads offers the simplest route for geotargeting and is great for beginners. When you run your Google Ads, take a moment to set the location(s) where you want the ads to show.
This fast and easy method is good for companies whose services are triggered after an event. We used them to quickly set up ads for a client that provides containers and services for debris and junk removal after a hurricane hit the Carolinas.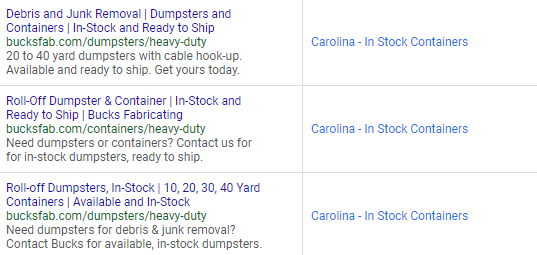 Note that an example like this is a good time to practice empathy marketing in your ads and recognize that you're meeting the audience's immediate needs, not overselling to them after a huge disaster.
How to use geofencing to enhance your ads
The geotargeting examples we mentioned above, per our definition, involve targeting by a general city, state or region. Geofencing, on the other hand, involves a smaller radius or boundary for your ads.
Here's how the geofencing process can work for a location-specific campaign like a trade show (once it's safe to attend these types of events again of course!).
You want to grow awareness for your brand with a very specific audience. You know many individuals in this audience will be attending a tradeshow located at a convention center in Downtown Chicago.
To reach these individuals you create a virtual fence around the convention center using a programmatic ads platform, Google Ads or even social media platforms like Snapchat.
By using GPS technology, when a user enters the tradeshow, their location is tagged.
If this individual checks any device while at the tradeshow they are served your ad.
The individual clicks on your ad and it leads them to your website. They may see details about your business, a specific landing page or a way they can contact you.
You then track the interactions on your website that result from your geofence ads.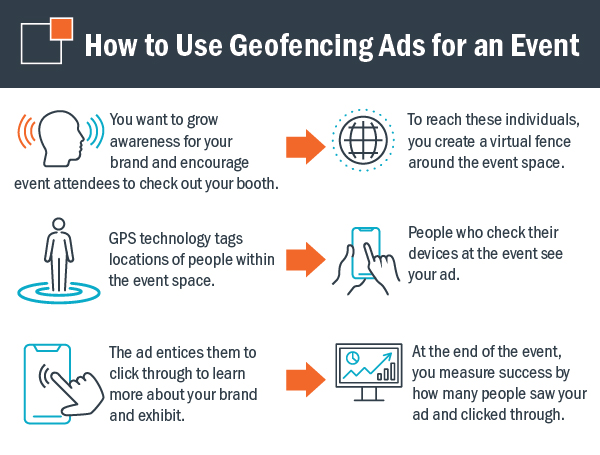 Serving your audience the right content at the right time is made 100 times easier with strategic geotargeting. Take note of the examples of geotargeted ads you see in your area and learn from them. You can also take some time to study cultural differences between the regions you serve and see what happens if you experiment with a geotargeted campaign.
Test, test test, find what works and then rinse and repeat. You'll be a geotargeting pro in no time!