TikTok users can't put their phones down, as it's becoming impossible to stop consuming to the point even brands can no longer ignore it. Younger consumers have driven its popularity, evidenced by last year's incredible forecast by
eMarketer
that more Gen Z users are on TikTok than Instagram. However, reports also show that anywhere from 50 to 60+% of the user base
is 30 years or older
.
Why should brands be paying attention to TikTok?
TikTok amassed over
3 billion downloads
and garnered one-third of all global social media users in less than four years. Compare that growth to the almost ten years it took Facebook and Instagram to get to that size. Other stats to consider:
TikTok is the
most engaging social media outlet
, with an average session of under 11 minutes, doubling Pinterest's 5 minutes. Additionally, the average daily usage in the US reports 33 minutes!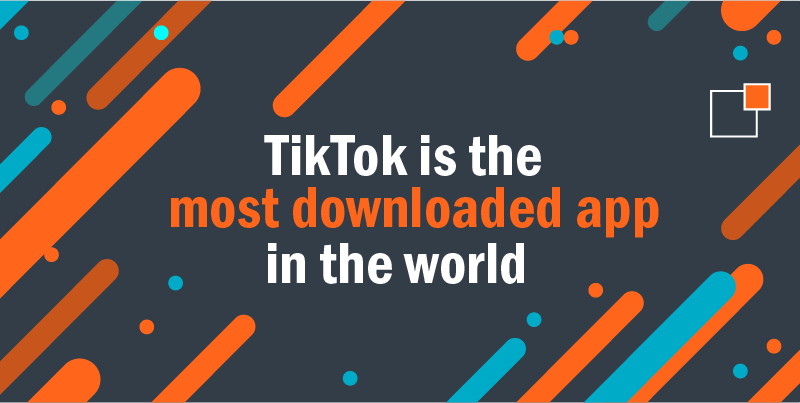 Why has TikTok grown so quickly?
The algorithm, up to this point, has been their secret sauce. It's quick to learn about the viewer and considers a more expansive view of interests when generating content compared to other social platforms. Essentially, TikTok is the Netflix of social media:
It learns your behavior and serves up customized content
It does this fast, based on the concise content it primarily serves
It's a "lean back" content model (you sit back to absorb vs. lean in to review)
It's used primarily for entertainment
There has also been a focus on smaller scale, "micro" influencers within the app. These creators can scale their followings on TikTok much faster than on other platforms, making it attractive for content creators to choose TikTok to produce more content, thus creating a cycle benefiting the app and its users.
Another point for marketers to consider is that consumers are likely on multiple social platforms, with many using
eight social platforms every month
, especially those aged between 18 and 34. TikTok is another perfect tool in your marketing toolbox.
Should your brand be on TikTok?
To put it simply, yes! It's essential for any brand trying to connect directly with end consumers to have TikTok in their toolkit producing organic content, paid social media ads or a mix of both.
The
thunder::tech social media team
advises this as yet another wave of opportunity for brands. Think back a few years ago to the early days of Instagram and Snapchat. Those early adopters of the apps skewed towards young users, which weren't the target for every brand, but soon grew to include members across all generations. Similar adoption patterns are occurring for TikTok.
Consumer brands should absolutely be exploring and interacting with the platform. Other brands should be watching to whatever degree their resources allow them to. For now, essential points brands should be aware of include:
Some research shows TikTok's user base is heading towards a more mainstream makeup of demographics. Older generations will join late to the party as they have done with all prior social platforms
TikTok can be a valuable, non-traditional channel to use for HR Marketing
The advertising bargain window on this app exists but is starting to close
TikTok values original content, so don't throw only repurposed social content into it
Watch for a rise in "edutainment" style content (education + entertainment) to rise as users spend more time on the app
For brands interested in a better ROI for their social media investment, there's no better option than TikTok for high engagement. According to
Socialinsider's
recent review of 27 million posts, TikTok has an average engagement rate of 5.96% in 2022 compared to Instagram's average of 0.83%, with Facebook falling to 0.13% and Twitter's average engagement rate a mere 0.05%.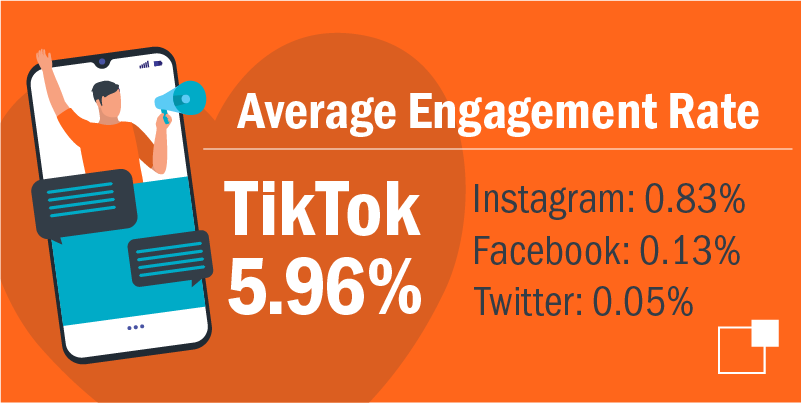 TikTok's rise in America hasn't been an accident. Our society thrives on the quick dopamine hits that short-form videos provide, and TikTok performs better than any other network's content.
So now is the time to jump in. Brands starting their TikTok journey now can create a running start by learning the platform and building an audience before every other brand wakes up to its potential.
Ready to dive into TikTok but don't know where to start? Our social team can help you develop a robust strategy! Let's get to work.