This summer was one for the books! We hosted not just one but three incredible interns! These bright minds not only survived but thrived at our bustling marketing agency. A delightful blend of fun and professionalism, our interns overcame challenges, accomplished major triumphs and honed their skills.
These exceptional individuals have infused our office with their boundless energy, innovative ideas and insatiable curiosity, bringing a breath of fresh air and unique perspectives that have enriched our entire team. So, without further ado, let's introduce you to our incredible summer interns, who've soaked up industry lessons like a sponge and are ready to take on the realm of marketing.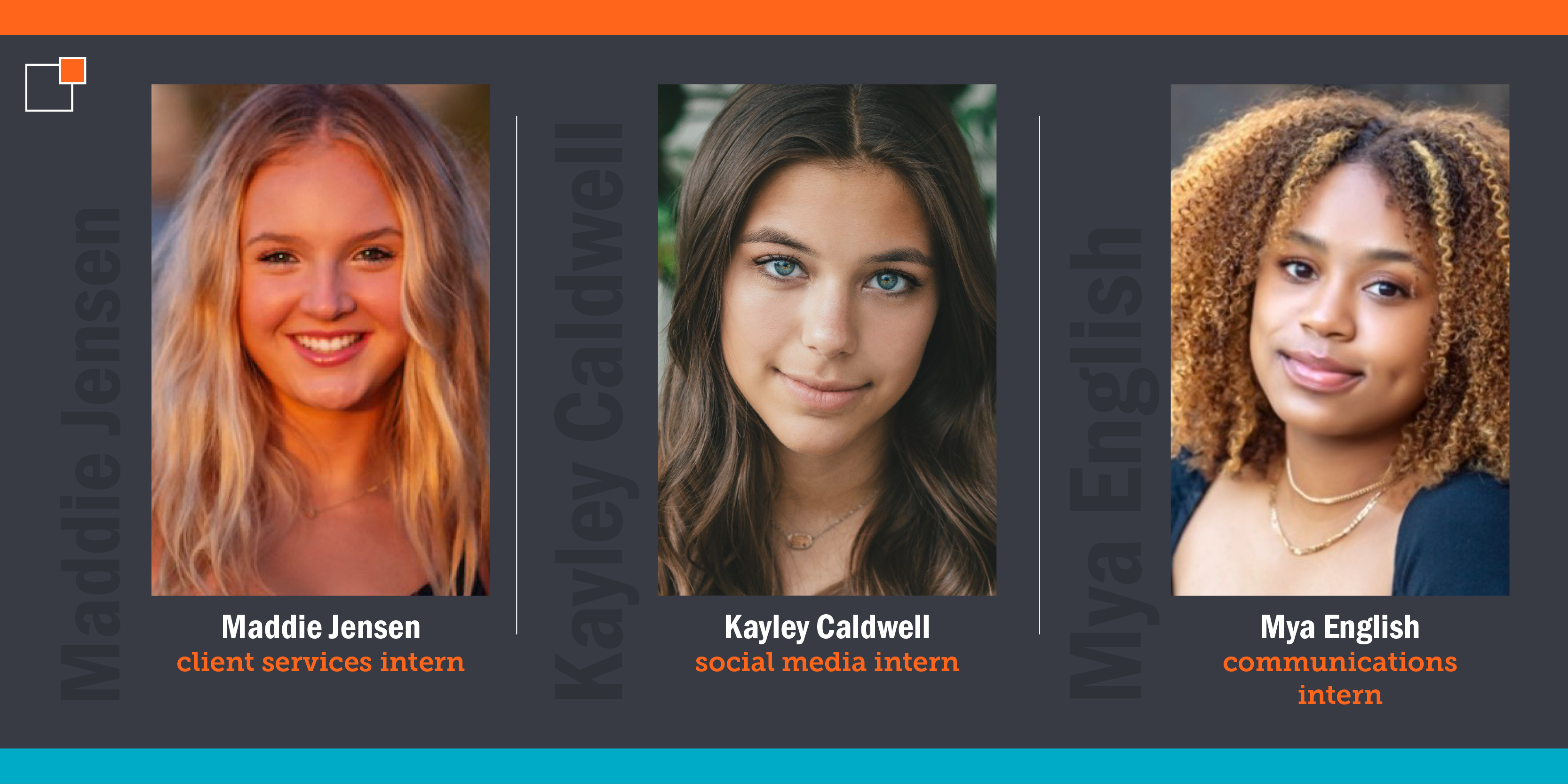 Mya English – Communications Intern
Hey! I'm Mya English, and I'm currently a double major in Strategic Communications and Theatre Arts at Ohio State University. This summer, I've had the opportunity to be the Communications Intern at thunder::tech. My role has been diverse, involving tasks like writing blogs, copywriting for both internal and external clients, creating engaging social graphics, producing TikTok content for t::t and clients, participating in on-site content shoots and handling community management.
What brought you to thunder::tech? 
I was looking for an internship that would allow me to gain hands-on and creative experience in social media. When I stumbled upon the role at thunder::tech on LinkedIn, it felt like the perfect fit, and I knew it was the right opportunity for me.
What skills are you excited to implement when you return to school? 
I'm excited to put my enhanced writing and media skills to use in my theatre creative courses. My experience with on-site video shoots has been invaluable, especially when it comes to offering creative direction and bringing projects to life!
What was your favorite project you worked on? 
My absolute favorite project was the intern project. Together with the other interns, we created a food map of Cleveland, highlighting various food spots for new hires. It was not only an enjoyable experience trying out cool places but also allowed us to really collaborate and get creative with crafting the vision for the map.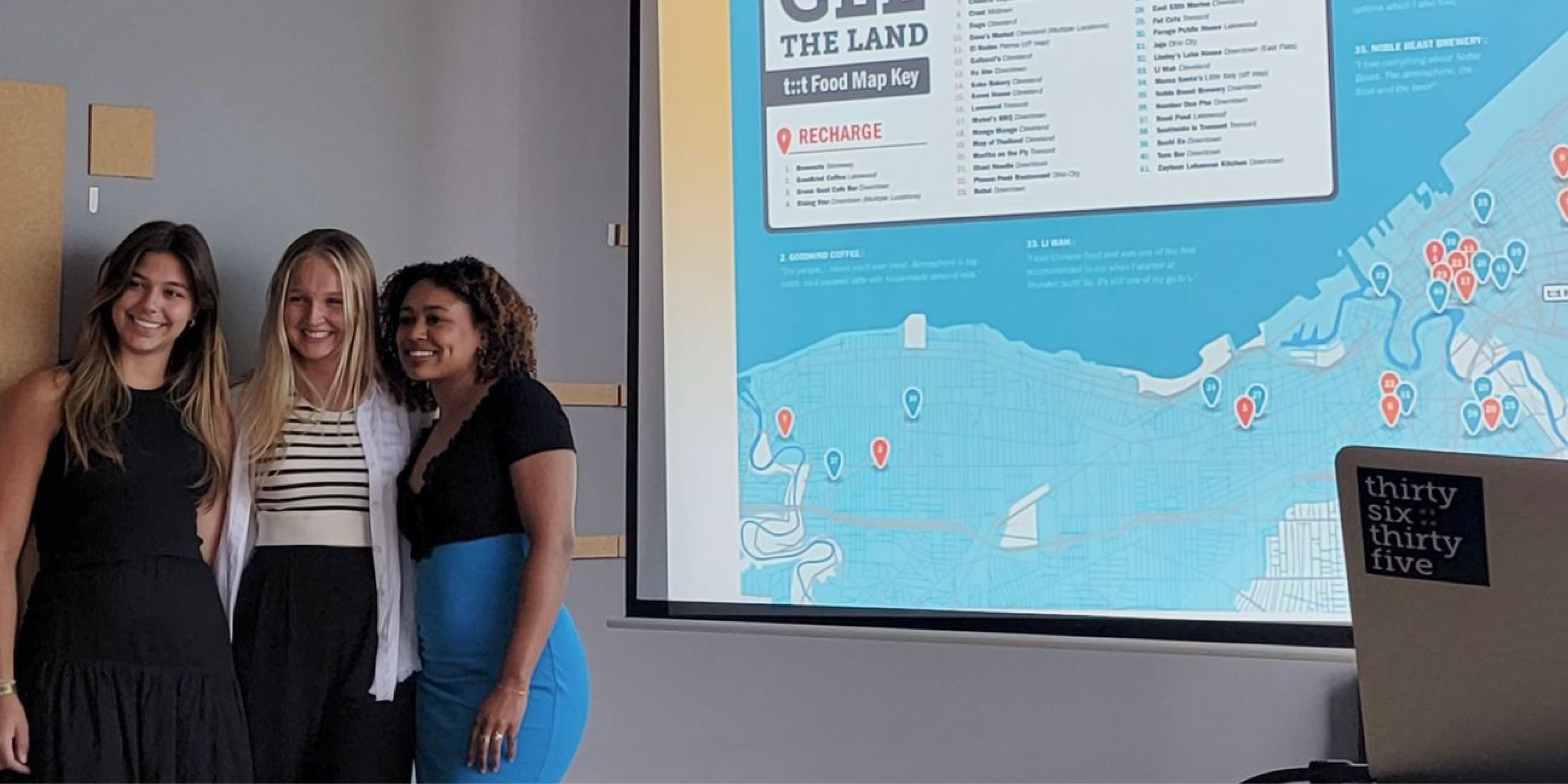 How has this internship inspired your career path? 
This internship has been a true eye-opener. It has helped me recognize and appreciate my unique skill set and the value I bring to the table. As I plan to become a freelance social media manager in the future, this experience has further solidified my passion for the field. Post-graduation, I eagerly look forward to diving into the entertainment industry, leveraging my diverse understanding of marketing gained here at thunder::tech. I'm excited to continue my journey as a creative, now more confident than ever in what I can bring to the table in the world of entertainment and the arts.
What is something unexpected that you learned during your internship? 
Throughout this internship, I encountered a powerful and unexpected lesson: the immense impact of collaboration. Working alongside a talented team and various clients, I witnessed how diverse perspectives and ideas can seamlessly merge to create exceptional results. This experience has not only taught me the value of teamwork but also set a meaningful precedent for the kind of company culture and workspaces I aspire to contribute to in the future.
What was a challenge you overcame during your time at t::t? 
One of the challenges I overcame during my time was adjusting the copy and tones to cater to the diverse clientele. Thankfully, referencing branding guides and getting to know each online presence better helped me navigate and deliver compelling content. The social media team's guidance and mentorship played a crucial role in helping me overcome this challenge, and I'm grateful for the knowledge they shared.
What's your best dad joke?  
Why did the scarecrow win an award?
Because he was outstanding in his field.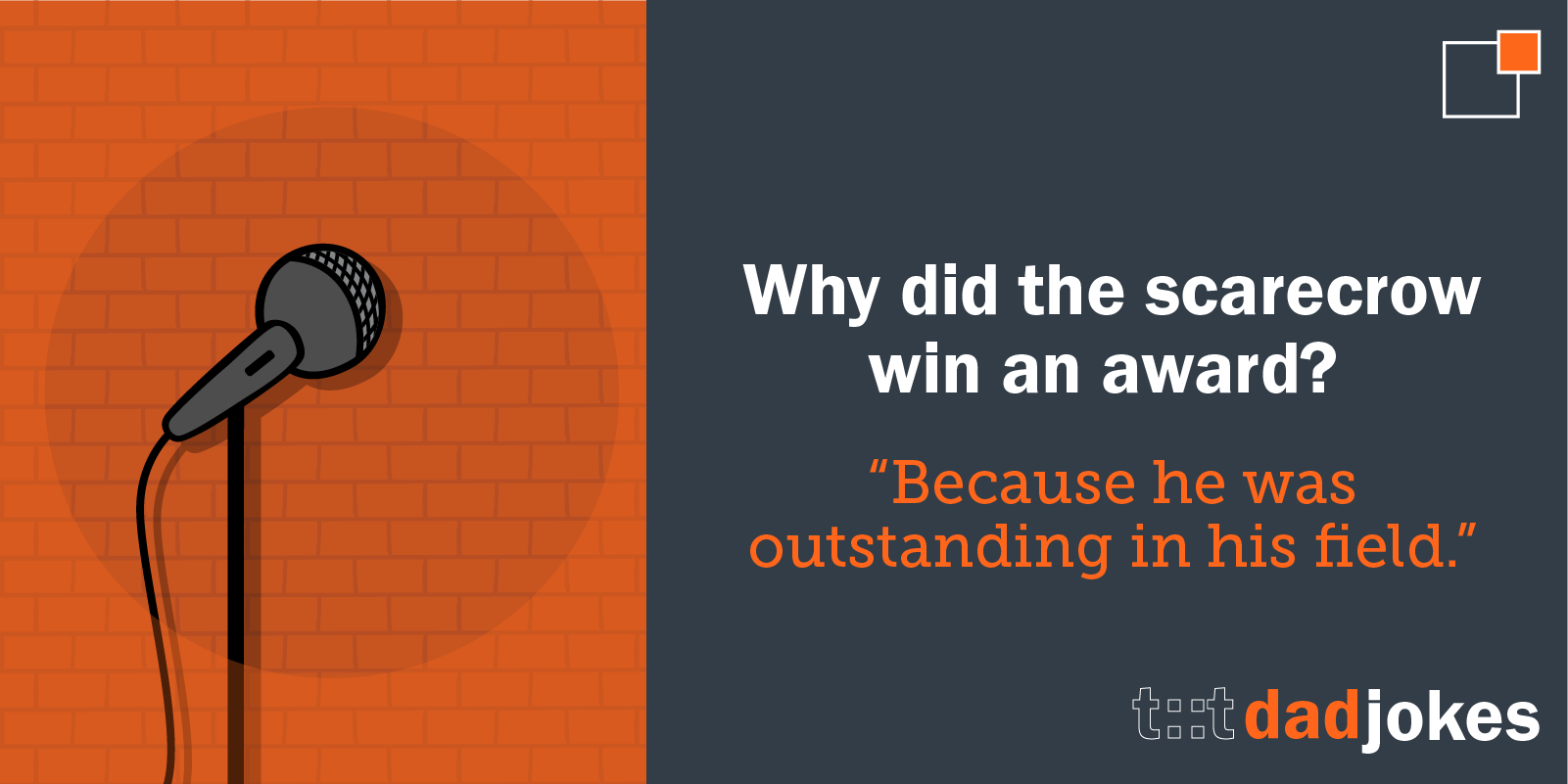 Kayley Caldwell - Social Media Intern
Hello, I'm Kayley Caldwell, a rising senior at Miami University in Oxford, Ohio. I'm currently pursuing a bachelor's degree in Psychology with a Minor in Marketing. I'm extremely grateful to have the opportunity to be the Social Media Intern this summer at thunder::tech. Some of my responsibilities this summer included content creation for seven thunder::tech clients. Additionally, I worked on internal thunder::tech marketing, such as daily TikToks and creating social media content. I have also gotten a feel for Influencer marketing, on-site content shoots and community management.
What brought you to thunder::tech? 
As I planned my summer, I aimed to secure an internship to prepare me for post-graduation. I was certain about pursuing a career in marketing but unsure of the specific direction. I found a post on LinkedIn of a job listing at thunder::tech. After my initial interview, I knew this was where I wanted to be. Everyone was friendly, and I connected right away. I've always had a love for social media, especially TikTok, so I knew I had to take the position and it was so worth it.
What is something unexpected that you learned during your internship? 
I have always known that communication is important, but my work at thunder::tech has shown me just how crucial it is in every aspect of my job. You must be able to clearly communicate your project needs, time constraints and request for help. No one should hesitate to ask for help, more time, or assistance checking something. Effective communication skills are essential.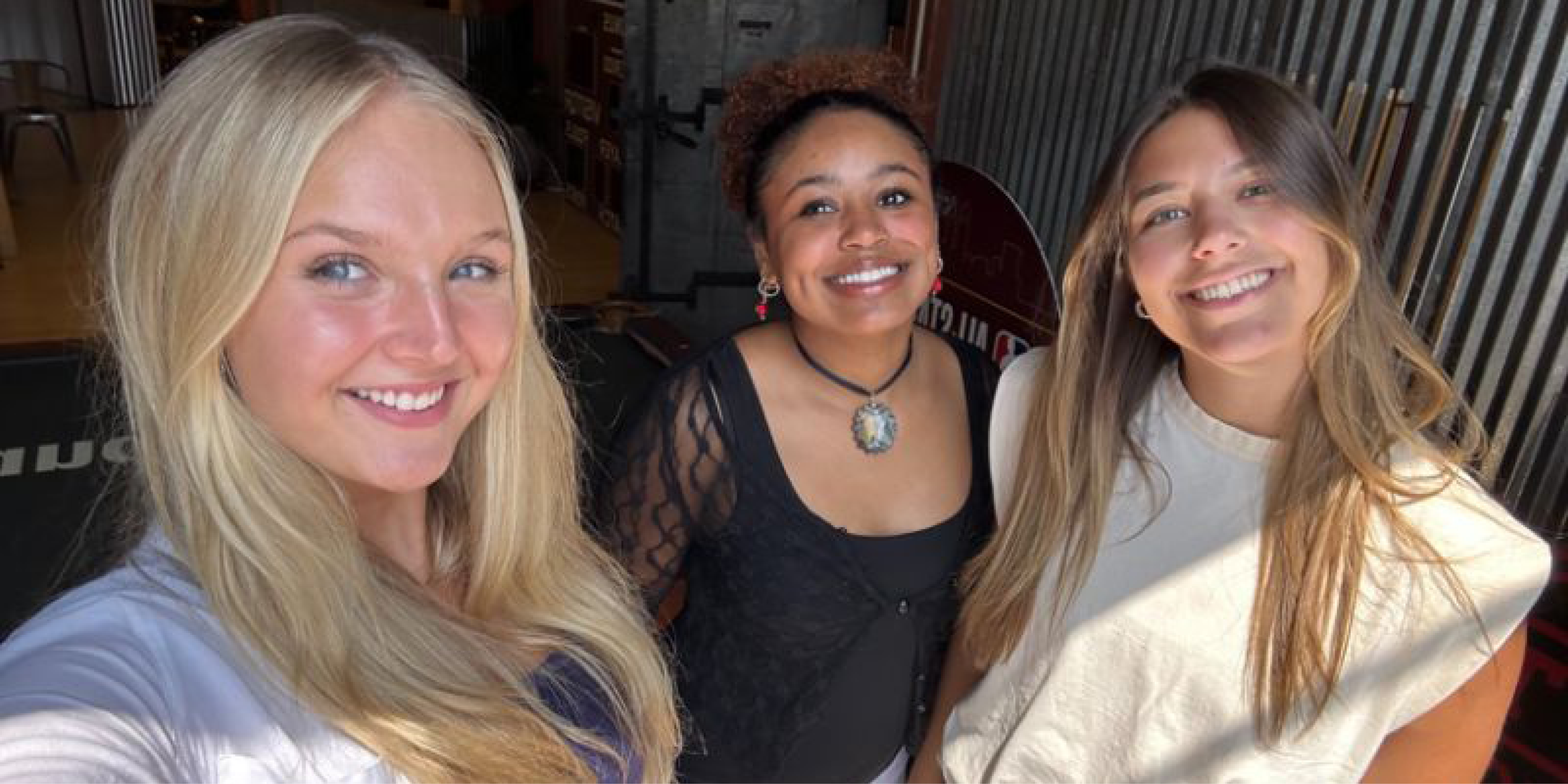 What was your favorite project you worked on? 
My favorite project I worked on was my weekly trend reports! Every Monday, I researched the latest trends on TikTok and Instagram. Since I use TikTok daily, I often knew what to include right away! I always had so much creative freedom with how I wanted them to look. It also allowed me to get comfortable with Canva. Working on it improved my understanding and benefited my client work.
How has this internship inspired your career path? 
This internship has been highly eye-opening to what I want to do after school. I love the amount of creativity I am allowed to express. I also feel very confident in my work at thunder::tech; I can definitely see myself working at a marketing agency, especially on the social side of things! I love how fast-paced the work environment is and how motivated everyone is every day.
What was a challenge you overcame during your time at t::t? 
One challenge I faced/overcame during my internship was organization. Initially, I struggled with juggling multiple client projects with concurrent due dates. I was scrambling to meet deadlines and keep track of what I had already finished. Figuring out Basecamp was tricky at first, but then Emily Lindsay (shout out to her!) helped me collect my bearings, and we worked on cleaning up that mess so I was always prepared for the next batch!
What's your best dad joke?  
Diarrhea is hereditary... It runs in your genes.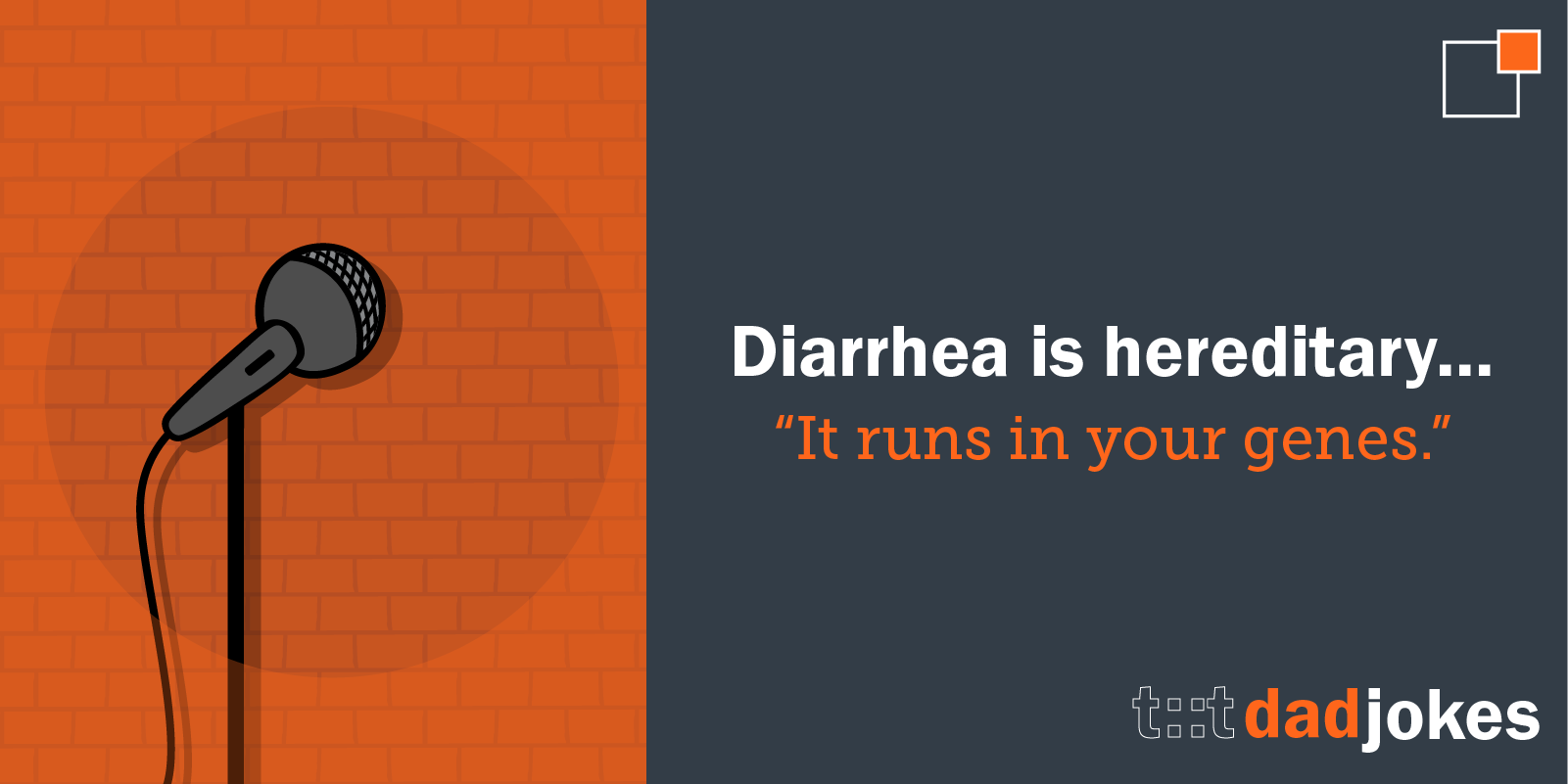 Maddie Jensen - Client Services Intern
Hi!! I'm Maddie Jensen, and this fall I'll be starting my sophomore year at the University of Kentucky as an Integrated Strategic Communications student! This summer, I've had the wonderful opportunity of working with the Client Services Department as an intern. My day-to-day responsibilities varied frequently but week-to-week, you could find me sitting in on client meetings, updating status reports and helping the account managers with their workload.
What brought you to thunder::tech? 
I began researching summer internships in December of 2022. My goal was an internship in marketing, and my parents advised me to apply for a position at thunder::ttech. As I learned more about thunder::tech, I became more excited but feared getting my hopes up due to my lack of experience. After a few months of interviews for different positions, finally, in late April, my last interview was with thunder::tech. I felt really good after talking to Kate and Nicole; the rest was history!!
What was your favorite project you worked on? 
Not necessarily a project, but I loved working with clients during brainstorming sessions. This was amazing because I got a lot of firsthand experience with clients when working through how we would accomplish their goals!
What skills are you excited to implement when you return to school? 
I'm excited to incorporate brainstorming and planning techniques into both my classes and sorority. Through working with a vast amount of clients in different industries, I learned so much about digital marketing strategies and how they can apply to different audiences depending on a product.
How has this internship inspired your career path? 
Working at thunder::tech has given me a sense of what it feels like to be part of an amazing company. I was met with only appreciation and kindness, which I know has made a big difference in my work. Working at an agency has shown me that there is strength in numbers and thunder::tech truly has so much talent in every one of their departments. I still have time to decide, but I want to work in a place that appreciates their people like thunder::tech does!.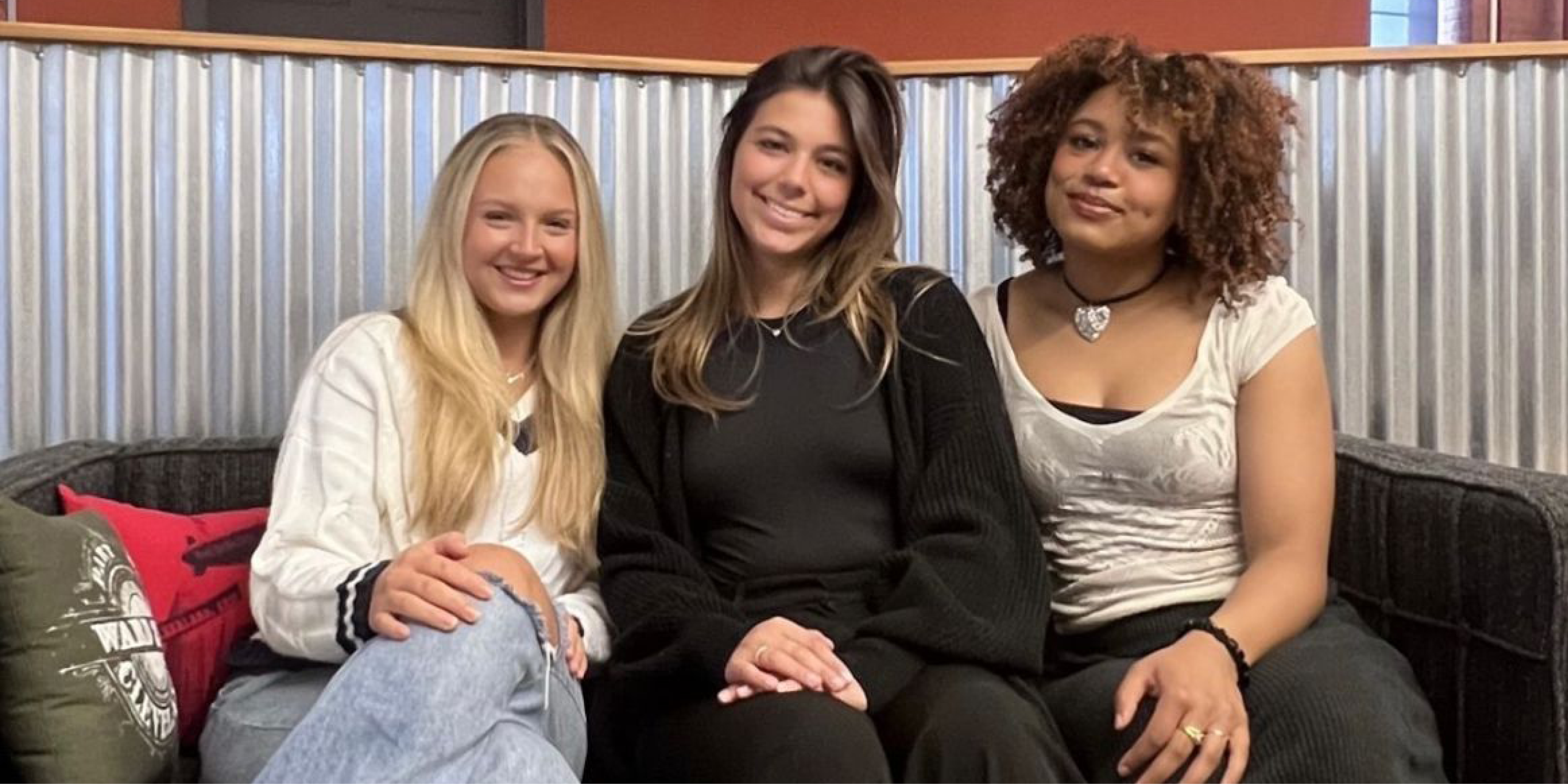 What is something unexpected that you learned during your internship? 
Before I started at thunder::tech, I had no idea what it meant to be working in an agency. It was so eye-opening and much more fascinating than I thought; to work with different departments and slowly learn the ropes of an agency. Each team is so valuable, and seeing the constant collaboration day in and day out was unexpected but incredible.
What was a challenge you overcame during your time at t::t? 
I definitely had a tough time with my confidence at the beginning of my internship. I felt intimidated and unsure of myself with the work that I was doing since everything was so new to me. My coworkers picked up on this, gave me an overwhelming sense of support and appreciation and helped me build my confidence in this role. Sometimes it can be hard not to let my head get in the way. But, after completing this internship, I have a lot more ways to combat self-negativity, and I feel much more confident in what I know I can do. I'm so grateful to the people who helped me through it!!
What's your best dad joke?  
What did the blanket say as it fell off the bed?
Oh sheet.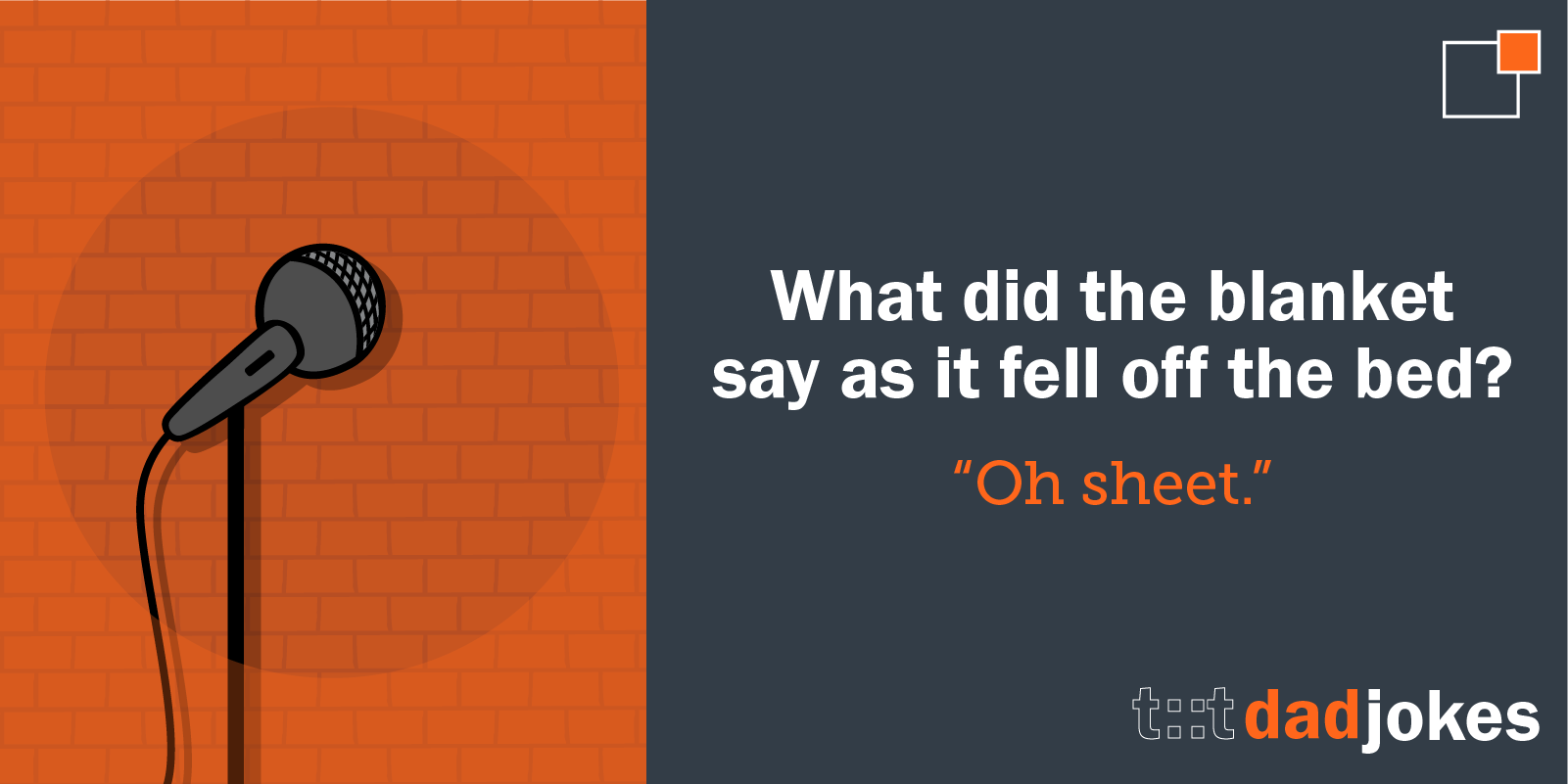 That's a wrap.
Throughout the summer, our interns had the opportunity to contribute to meaningful projects, work alongside experienced professionals and expand their professional network. They've demonstrated remarkable growth, adaptability and a thirst for learning, proving themselves to be valuable assets to our organization, bringing fresh perspectives and innovative ideas to the table. Their dedication, enthusiasm and commitment have exceeded our expectations.
As we wrap up the summer, we're confident that our interns have developed the necessary skills and experiences to thrive in their future endeavors. We're excited to see how they will continue to make an impact in their respective fields and carry forward the lessons learned during their time with us.
We want to express our heartfelt gratitude to our interns for their hard work, creativity and contributions. We also extend our appreciation to the mentors and professionals who have guided and supported them throughout this journey.
We look forward to witnessing the future successes of our interns and the profound impact they will make in their professional careers.
But just because the summer has ended doesn't mean the fun is over. We regularly open new intern positions! Keep an eye on our
careers page
for new openings, we'd love to have you join the thunder::tech team. And as always,
don't hesitate to reach out with any questions you may have!