Is there anything so hallowed and mysterious as the Google algorithm? Every day thousands of people go to work in roles specifically meant to crack the code and put their website content in that coveted number one spot. With so many people competing for the same prize, how can you improve your SEO ranking on Google, too?
Unfortunately, this guide won't give you a magic solution (but if you have one, let us know in the comments!). What it will do is give you the right knowledge and tools you can use to kick off your SEO journey and gradually get your content in front of more eyeballs.
Use these 28 tips to guide your efforts, and may the best SEO-er crack the algorithm!
Take these tips offline with our downloadable guide. Click here.

On-page Content Optimization

1. SERP features
Whether you're creating content from scratch or optimizing existing content, start with keyword research to determine the keyword you're optimizing for. Then, check the Search Engine Results Page (SERP) that exists for that keyword at that moment in time.
Note which SERP features are included on the page. A featured snippet? Video carousel? A "People Also Ask" box? If so, shape your content with the intention of taking that feature for yourself.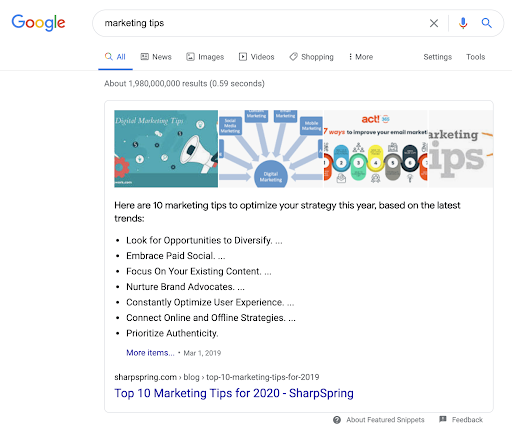 For example, if Google pulls up a video first on the SERP, your content should include an original video, too. If you can't make that work, go back to the drawing board and choose a new keyword to explore.
2. Title tags
This one is simple! A title tag is the bolded headline on the SERP. Make sure it includes your primary keyword and stays between 60-70 characters for optimal results.
3. Meta description
A meta description is the piece of text in the SERP underneath the bolded title tag. Make sure it includes your primary keyword and remains around 155-160 characters.

While your meta description is not as critical of an SEO ranking factor as the title tag, it can greatly impact your click through rate. Google will bold primary keywords included in the meta description, which can easily draw in the user's attention.
4. Alt text
Alt text is descriptive text used to describe images for SEO and accessibility purposes. Search engines cannot read images if they do not have alt text. To optimize your alt text, create a short description of your photo and include your primary keyword. Remember, you aren't just optimizing for search engine crawling robots, you're also optimizing for real humans who may need assistance viewing your images.
5. H1s
H1s are a type of header tag recognized by search engine crawlers as the most important header on the page. It's used to identify the topic of the page, so always always always include your keyword in your H1!
Pro-tip: It's best to have some slight variation between your title tag and H1 so the search engine doesn't interpret duplicate content on the page. One of the easiest ways to do this is to use the "Keyword | Brand" method. For example, if our keyword is "graphic design tips," our blog may be called "25 Graphic Design Tips to Revamp Your Brand" and our title tag may be "Graphic Design Tips | thunder::tech."
6. URL Structure
In technical terms, your content URL is the page path after your website domain used to help the user understand where they are in the website. To optimize it, keep it short and simple and use target keywords when possible.
For example, if you're optimizing a web page for the keyword "double-sided tape," a good URL would look like this:

A bad URL would look something more like this:

7. Semantic keywords
Semantic keywords are keywords related to your primary keyword. For example, if your primary keyword is "website," some semantically relevant keywords would be visual design, SEO, application development, front end development, etc. These keywords are related to your primary keyword, but are not the target focus of your content.
To optimize your content, simply include them on the page, scattered naturally through your content. Try to put them in headers and subheaders as this will give them more weight in the robot eyes of the search engine crawlers.
Technical Optimization

8. Robots.txt
A site's robots.txt is a file used to tell search engines which pages to crawl and explain which pages not to crawl. It is the first file search engine crawlers come to. If your site doesn't have a robots.txt file setup, the crawlers move to the home page and crawl from there. You can find any site's robot.txt file (if they have one) by typing the domain URL followed by /robots.txt into the address bar. For example, Amazon's can be found here:
https://www.amazon.com/robots.txt
It looks like this: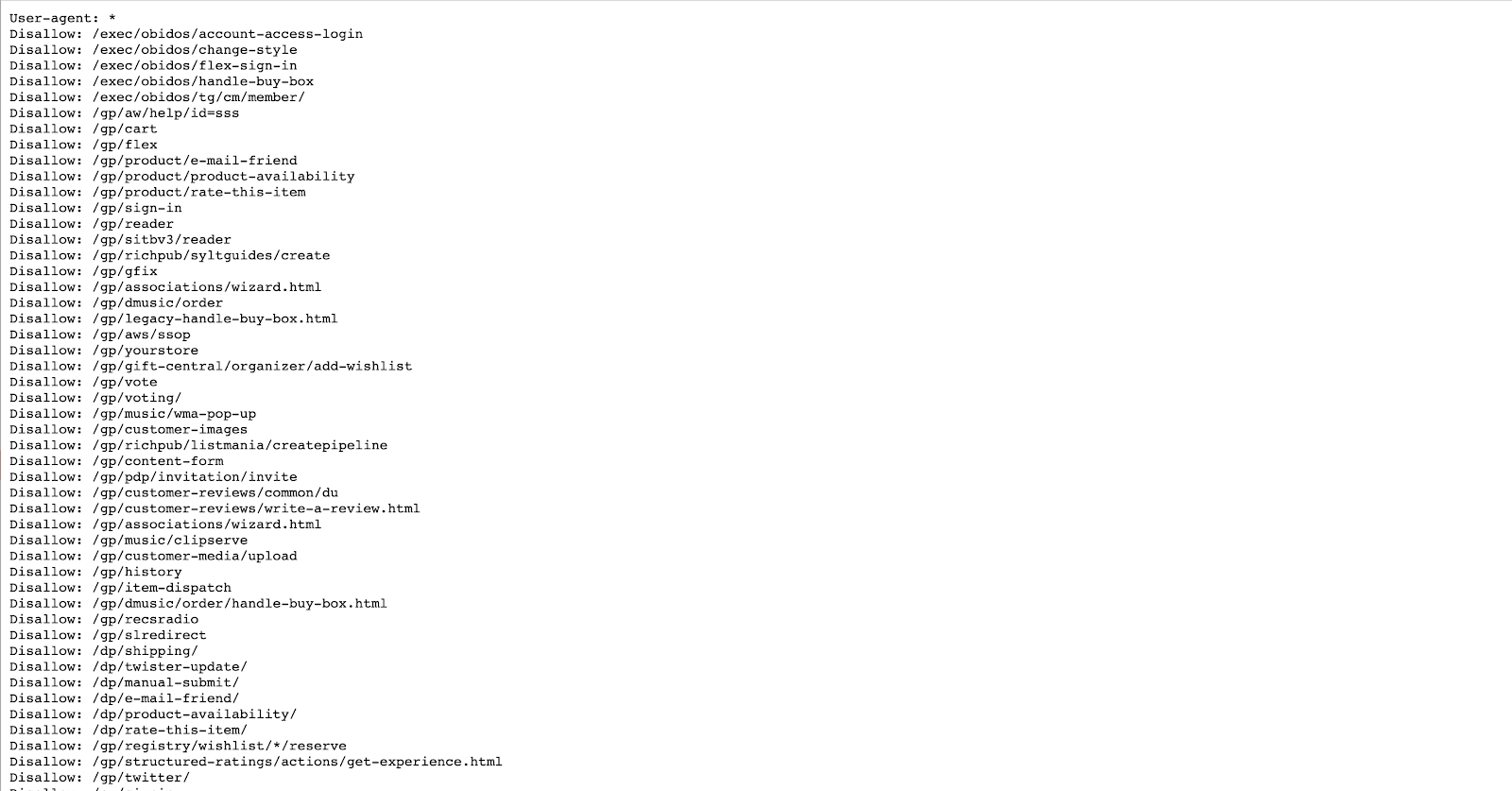 Adjusting your robots.txt lets you disallow certain web paths. For example, if you operate an e-commerce site, you may want to disallow crawlers from accessing your checkout and customer account pages with customer information.
Optimize your robots.txt by identifying the pages you do not want crawled and tasking a web development team to set things up properly because, trust us, it gets tricky! Confirm that everything is in proper order by triple checking. It's easier than you think to leave a stray forward slash (/) from the staging site in your disallowed pages, and suddenly the entire site is unable to be crawled by Google!
9. XML sitemap
The XML sitemap is a file containing an outline of the URLs associated with your site. Similarly to a robots.txt file, your site's XML sitemap can be found by typing the site's domain URL followed by /sitemap.xml into the address bar.
You can optimize it by making sure all your site content is included in the sitemap. Remove unneeded pages and broken pages from your XML sitemap. Because it's a dynamic sitemap, you can always check in on it periodically to make sure it still accurately reflects your site.
10. Canonical tags
Canonical tags tell the search engine which URL from your sitemap to display in their results. If your canonical tags are wrong, you can run into indexing issues down the road.
Canonical tags should be self-referencing, AKA they should reflect your URL slug. Make sure you're adding canonical tags to any HTML pages that are able to be crawled.
11. Hreflang tags
Our favorite SEO term to pronounce loudly and with confidence (Try it! There's no wrong way!). Hreflang tags are important when you have multiple versions of your website in different languages. When implemented correctly, hreflang tags enhance your international SEO by telling Google there are other language versions of your site out there.
If you're operating internationally or in multiple languages, make sure your hreflang tags are implemented correctly based on where your audience is. Check that you're also using canonical tags in cooperation with hreflang tags that point the canonical tags to the proper language. If this all sounds Greek to you, either you haven't set up your hreflang tags correctly, or you'll need to call in a developer again for help!
12. No-index/no-follow tags
No-index/no-follow (NI/NF) tags are like closed doors and robots.txt files are like locks. Together, they prevent the spread of your SEO value to sources trying to capitalize on your hard work. NI/NF tags control what's indexed and what's not in search engines. Because this is also pretty technical, here's an example you've probably witnessed before:
You know those spammy comments you get in the section of your blog? The ones that say something along the lines of "Great job on this article! So impressive! I also offer my own design services which you can learn about here." and then they link to their own website? That's not just them advertising their site. Without NI/NF tags, they're also generating a backlink for their own site and improving their SEO by capitalizing on your site's domain authority.
Still confused? Without NI/NF tags, when someone links to their own site in your comment section, that link is considered part of your website, as though you linked back to them in your own content. Do this enough times, and suddenly their site has hundreds of sneaky backlinks borrowing the domain authority of other site's comments sections. It's a shady way to grow their SEO.
Adding NI/NF tags to places like your comments section or checkout page controls the link value that's passed to other sources. With these tags in place, spammers can link back to their site as many times as they want without getting any SEO boost from it.
NI/NF tags also work closely with robots.txt files, but you should always keep both up to date because search engines have a nasty habit of ignoring NI/NF tags. A locked door is safer than just a door!
13. Duplicate title tags
Remember when we talked about H1s way back in tip number five? We're revisiting them in our technical section. Make sure your web page only has one H1 (or title tag) per page. Having multiple H2, H3, H4, etc. tags is fine, but make sure your HTML only reflects one H1 title tag. Search your source code for H1 and ensure there's only one headline containing your keyword that's marked as H1.
14. HTTPS
Sites must have this, no exceptions! While Google is pretty secretive about their algorithm, SEO professionals have done enough testing to know that your SSL certificate is a known ranking feature for sites.
In layman's terms, when your URL starts with https://, that means it's certified as secure and safe. If it starts with http://, it's not certified. Google Chrome has actually started warning users when a site isn't certified. Always make sure your SSL certificate is up to date and functional!
15. Internal linking structure
Internal linking is a way of interlocking the path of pages on your website. Every time you link one page to another, you're transferring SEO value from page to page. Use this to your advantage. Link your most popular blogs to pages or content pieces you want to rank better to pass link equity through your site.
Pro-tip: Make sure the text you're linking from one page is semantically relevant to the page you're linking to. For example, if you're linking to a blog about digital advertising, try to link text that actually says "digital advertising" instead of saying "Click here to read about digital advertising" and linking the "here."
16. External links
On the other hand, external links are links to other websites that aren't yours. Google likes to see that you have a little faith in the rest of the internet and aren't just linking to your own resources over and over again. It gives you a little credibility. To optimize, be sure to add 2-3 reputable and high-quality external links per page for maximum SEO value.
17. Javascript
Excess use of Javascript can have a negative impact on your site, creating what we in the biz call "code bloat." Too much of it makes it difficult for search engines to read and understand what's on the page and can bottleneck page speed. To test if you're using too much Javascript, use
developers.google.com/speed
.
Remove unused and unnecessary Javascript and, when possible, minify your Javascript or add an async attribute to your page. An async attribute allows Javascript to process simultaneously with the page load. Without including proper async attributes, Javascript stops the page load to process, increasing overall load times. As we'll discuss a few tips down, slow page speed does not improve your SEO ranking on Google one bit.
18. Structured data markup
Your structured data marketup, or schema markup, is used to indicate and better translate data from your website to search engines like Google. It signals to the search engine what type of content is on the page (article, FAQ, how-to, etc.) as well as the page's main topic.
Pro-Tip:
Use
schema markup generator tools
to create JSON-LD script and have a developer insert the schema into the head of the page. It may seem silly, but it's just another invisible thread that can help you beat the algorithm if you go the extra mile to include it.
User Experience
19. Page Speed
Page speed, or how fast the page loads for the user, impacts user experience and SEO ranking.
Google is putting further emphasis on
Page Speed Insights
because it knows users want to find data faster, and a slow moving site leads to a bad user experience. That's why page speed is now an SEO ranking factor and can be found within the Google Search Console. Google has also started crawling mobile versions of websites first, increasing the need for faster load times.
Pro-Tip: There are many different ways you can optimize your page speed.
Compressing images.
Serving images in the correct aspect ratio or scale. That is, not resizing images to be larger or smaller inside the CMS.
Minifying HTML, Javascript and CSS to reduce the size of your code. Remove comments, white space, old and useless code, etc.
Investing in a strong, reliable server with consistent uptime and the capability to create backups or your server to keep uptime even faster.

20. General user experience improvement
Google appears to be shifting more and more towards user experience (UX) ranking factors. For example, as we mentioned above, HTTPS secure connections signal to a user that a website is secure, which leads to a better user experience. Page speed usually means poor UX, so Google has emphasized it as a ranking factor as well.
There are other factors that play into good UX, like limiting pop ups, creating a strong, pyramid-format website structure and ensuring content is broken up so it's easy to read, skim and navigate. Conduct a UX audit of your site to ensure you're providing an optimal user experience every visit.
Backlinks
21. Make great content
The number of backlinks your site receives is also a known Google ranking factor. It's not a magic, instant solution, but the best way to gather backlinks is to put out consistently good, original content. Don't copy others' content, and trust the process. Great content will accrue backlinks over time.
22. Manual backlink acquisition
If you're impatient for backlinks to naturally fall into your lap, you can also launch an ask campaign requesting backlinks from other websites. There's a reason SEO specialists aren't salespeople, and many of them hate doing this, especially because the answer more often than not is silence or flat-out "no." But in some cases, getting just one new backlink is worth the effort.
It can help if you offer a backlink in return. Double points if you already have a relationship with the person or company you're asking for a backlink. Whatever your method, manually asking for backlinks is almost never easy. Good luck!
23. Local listing
Always claim and optimize local citations and directories with your basic NAPW (Name, Address, Phone Number and Website). It's an easy way for businesses to obtain backlinks, especially valuable local backlinks.
Start by claiming the big listings on Google My Business, Yellowpages, Foursquare, Facebook, Yelp, etc. Make sure your NAPW is consistent across all platforms.
24. Reclaim broken backlinks
Use platforms like
AHREFs
or
SEMRush
to find people who are linking to you. Examine the backlinks to make sure none are broken. If they are, reach out and ask them to replace the broken backlink with a better, active link instead.
25. Reclaim broken competitor backlinks
You can also use these tools to look at the sites linking back to your competitors' websites. Find broken links here and go through the same process of reaching out to offer one of your better, working links.
Bonus tips for improving SEO

26. Start a blog
If you don't have one already, set up a blog on your site and create good, consistent content optimized using the techniques in the "On Page Optimization" section above. Consistency is key here, because Google doesn't like inconsistent posts or sparsely populated blogs.
Your blog is the easiest part of your site to constantly change and update to build your domain authority. Many companies don't have blogs on their site, but a good one will only help you from an SEO standpoint in driving traffic to your site. You can only optimize product pages so much, and a blog helps you reach the top of funnel audiences who may not be interested in purchasing yet, but are interested in learning more.
27. Quotes
Include quotes from experts within your content. People are more likely to link to and share to your content if they're mentioned already. Nothing wrong with a little ego stroking while you're building your backlinks!
28. Third party plugins
Avoid excess use of plugins/third-party tools which can negatively impact performance. If they aren't optimized for performance they can greatly impact page speed. Additionally, if they don't work correctly, you'll probably forget about them over time and end up harboring tons of useless code that hinders load times.