A/B Testing, also known as split testing, is a tactic used in many forms of marketing, including email, search engine optimization (SEO), paid search and content. This type of content testing allows two versions of sources, whether it's emails, SEO specific content or webpages, to go against each other to gauge which one has the highest response rate. A/B Testing uses data and statistics that provide users with marketing platform suggestions to leverage strategies and designs that are developed during the beginning phases of marketing campaigns.
How does A/B Testing Work?
Its Tradeshow season at work and you are assigned the task of setting up an email campaign that will be sent to all of your distributors for an upcoming show. After gathering a plethora of information to generate the email content, you have come to the realization that your subject line can go in a few different directions. You want your customers to attend the upcoming Tradeshow, but are not sure if your email should include a subject line that asks a question or one that makes a straight forward statement about why they should attend the show. Remember, the attention span of the average email subscriber is just eight seconds when it comes to reading subject lines, so you better make it good.
Unlike deciding which microbrew you should drink at your local brewpub (there's usually at least 47 options), A/B testing does the deciding for you! (Please drink responsibly). The pressure to create the perfect subject line or featured content might be weighing heavily on your decision, but there is no need to fear – email A/B testing is here. Go ahead and create two emails with different subject lines or different content pieces and let the A/B gurus do the rest of the work for you. Since email A/B testing is available across different marketing platforms such as a marketing automation software (e.g. Pardot, HubSpot or Act-On) or an email marketing service (e.g. MailChimp or Constant Contact), marketers have several options depending on the services they prefer. (Please also email responsibly).
What type of planning is involved with A/B Testing?
When considering A/B testing, chances are you will have an idea of what sources you will be testing. These sources are split up between on-site and off-site tests. On-site tests usually steer toward an e-commerce approach, which typically involves a Content Management Software (CMS). During this process, sales-driven content is compared when a certain amount of data is collected. Off-site tests focus on emails and ads while taking an analytical approach to compare data of converted visitors. Data can include, but is not limited to, bounce rate, click-through-rate and unsubscribes. After discovering what your best converted sources are, you can plan for upcoming campaigns that are likely to give you results worthy of showing your CEO and/or manager. (Please plan responsibly).
How is A/B testing possible?
During A/B testing, sources such as email, webpages, app screens and content are altered to produce a secondary version. Small changes such as an email subject line, call to action button, or large changes that include different content or a complete page redesign are able to be made during the process. Once the differentiation is set in stone, the traffic is split between the original and modified sources. Based upon your reach, marketing automation software and emailing marketing services allow you to set the size of traffic that will be tested during the process. Metrics such as bounce rate, click-through-rate and open rate are tracked and archived until the specified traffic size is reached.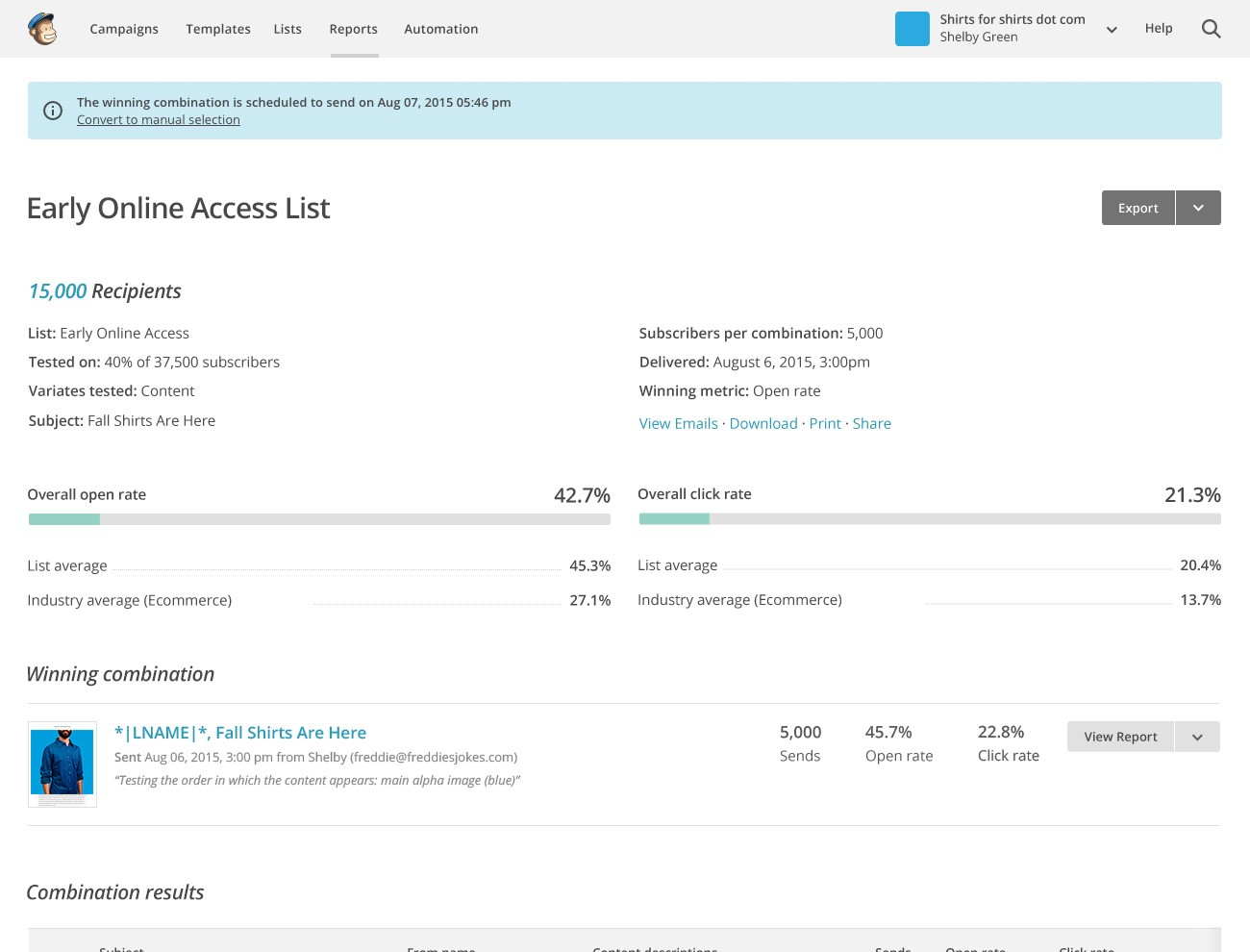 How can A/B Testing improve your performance?
Ever wonder what days and times garner the most open rates? What type of email template you should use? What direction your content should take? Features in email marketing services such as MailChimp can leverage your emails by letting you run tests to determine what works best for your email marketing. You can test several variables that align with audience size, open rates and click-through-rates. Once these variables are set into place – Shabam! You have found a worthy campaign.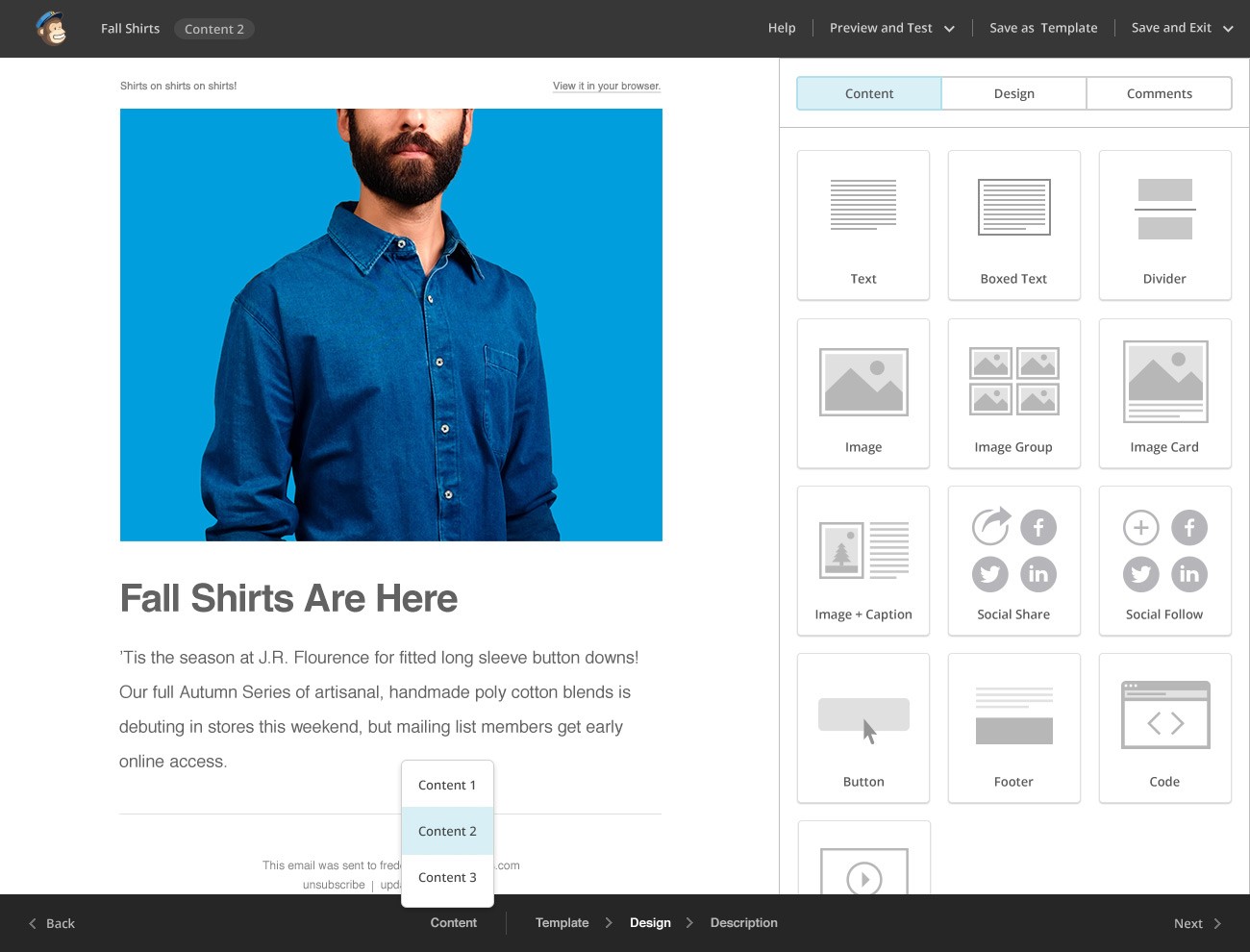 SEO A/B Testing
Ah, the ever-evolving world of SEO… It seems like there's an update with Google's algorithms every 2.5 seconds. Despite Google's mysterious ways, they actually permit and encourage A/B testing and claim that it will not affect the search ranking of your website. So let the search engine games begin! One major rule before you start: NO CLOAKING ALLOWED. It is one of the factors that will put your search rank at risk by mistreating the A/B testing tool. What is cloaking? Cloaking is defined as presenting content to search engines that is different from what a regular visitor would normally see based on IP address and User-Agent HTTP in conjunction with Googlebot. This will result in the demotion of your site, or even worse, your site will be removed from the search results. GONE FOREVER. (Please SEO responsibly).
A/B Testing Across Various Industries
A/B testing can be used across various industries including travel, technology, media and e-commerce. Travel companies typically feature several outlets for users to purchase flights, hotels and all-inclusive travel packages. Whether it's their website or mobile app, travel companies are always looking for ways to encourage user interaction, and most importantly – increase revenue. To determine which version of a website or mobile app is best, they can test their search results page, homepage search modals and support service pages.
Technology companies are very sales-driven, so generating useful leads is a key factor of success among their sales teams. Getting users to fill out lead forms can be a daunting task, but using A/B testing to determine which form garners the most responses can help companies generate more leads. Other areas that are able to be tested include contact forms, call-to-actions and product messaging.
Media companies are always looking to grow readership, and most importantly, gain subscribers. The more time a reader spends on their site, the more likely they are to interact with content and partake in social sharing (a desirable action most media coordinators would agree can never happen enough). In order to reach goals, A/B testing can be used for email sign-up forms, recommended content and social sharing buttons.
Based upon constant competition, e-commerce companies are always hoping to increase the amount of users that proceed to checkout, but are oftentimes left short because of poorly setup checkout pages. A/B testing allows e-commerce companies to test checkout funnels to gauge the most effective setup and optimize the purchase process. E-commerce companies also look to the average number of orders and sales during specific times of the year, like holidays or end-of-season sales. These types of statistics are calculated through splitting up promotional content on the homepage and using various navigation links.
Allocating Time to A/B Testing
A/B testing is not something that happens in the blink of an eye. Simple A/B testing can take a few days, but more in-depth testing that features more traffic can take a couple weeks, or even months, depending on the amount of sources you are looking to test. During the A/B testing process, disruptions can occur, and that's why it's important to only run one test at a time for precise results. Skewed results may also populate if you don't give A/B testing a significant amount of time or lack a sizeable group. Thus, marketers need to plan accordingly.
On the other hand, running a test for too long will also skew results because variables can become harder to manage over an extended period of time. Strategic A/B test planning is something that can make all the difference. Whether it's planning around a time of year that's slow, such as after the holidays or preparing for a major product launch, marketers need to be prepared for all possible obstacles. If you are considering A/B testing, but are unsure of where to start, sleep on it and complete all the necessary research. A well planned A/B test will be worth it in the long run compared to something that's rushed and poorly researched.
Overall, A/B testing involves strategic planning throughout all stages of the process. From identifying comparable areas, selecting a relatable and reliable A/B testing platform, observing the possibilities for future growth, testing questionable metrics and ultimately selecting the best outcome for improved performance: A/B testing is an area which has created a life of its own. It can give us insights into our biggest challenges, competitively and internally, as well as make those challenges easier and more understandable. In a results-driven marketing world, A/B testing may just set the tone for what is going to happen next within your organization.