Ah yes, social media: the land of selfies, viral dance challenges and smiling dogs. These channels have evolved into so much more than platforms to share pictures from your latest vacation or snaps of your breakfast. Social media has become a place where industry leaders can share their opinions and expertise with a community of like-minded individuals.
The Big Question: Why?
Social media is an opportunity for thought-leaders to connect with like-minded individuals to discuss trends, offer advice and humanize their brand. Not convinced yet? We are here to give you the entire rundown on the benefits of getting your organization's leadership active on social media and how to get started.
1. Thought-Leadership
By taking the time to write well-thought-out posts about events happening within your industry, up-and-coming trends and participating in conversations, you are developing yourself as a thought-leader. You are an expert in your industry and people want to hear from you, so share your expertise! This is your opportunity to talk about more than just what is happening within your company, but your industry as a whole. Thought leadership is always right, whether it's the conveyance of knowledge, illustrations of best practices, or just sharing hard-earned experiences it goes miles in the realm of credibility for your brand.
2. Establishing Relationships
Think of utilizing social media as another form of networking; you get to make connections with other leaders in the industry. Plus, your employees want you on social! That's right: Employees prefer working for business leaders who are active on social media by a ratio of 4 to 1. By sharing your ideas online and participating in others' conversations, you can build relationships that could lead to new clients, a partnership or expand your network.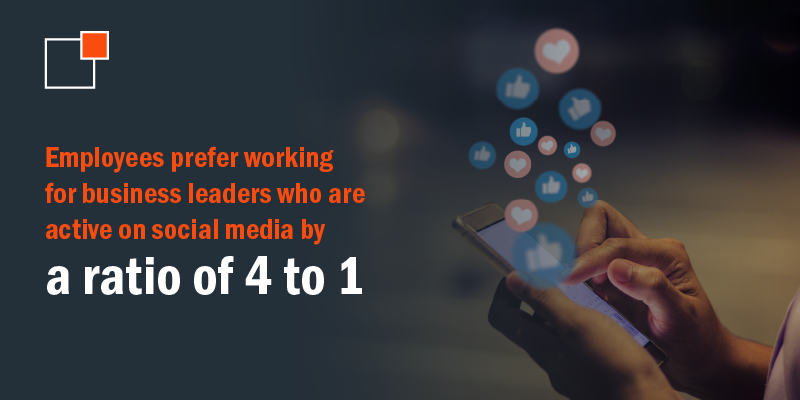 3. Humanize your Brand
Sometimes leaders can come off a bit intimidating, so use social media as a way to share about your life outside of work. Share who you are as a person and show people who you are outside of the office. By showing your full colors instead of just one side of yourself, you can make deep connections and further develop your relationships. This is also a great way to continue to spread your company culture outside of the immediate workplace and stir up fun conversations with your team.
"All brands are made up of collections of people, so the ability for leadership to be out front representing the brand can make the organization not only approachable but memorable to your target audience"
, Jason Therrien thunder::tech President.
4. Plug Your Company
At thunder::tech, we are big fans of HR marketing. Developing your individual profile can be an effective recruitment tool, giving others an inside look as to what your company is like. By putting a face with the company, you can drive both new talent and clients. In fact, nearly 82% of employees will research a company's social presence during the interview process. This is your chance to brag.
5. Handle Public Relations
In the event of a "crisis" or the general need to make an important announcement, your platform is an ideal place as you will already have established authority and audience. This will give you the opportunity to take control of the narrative and let people know that the problem is being handled all the way from the top down.
Most Important Platforms
There are many social media platforms out there and they are growing by the day. Each one has its own unique characteristics to fit your company culture, here are some of our personal favorites!

LinkedIn
Not sure where to flex your social media muscles? LinkedIn is the perfect gateway to the executive social media world. It's probably the most popular platform to establish a professional presence on because LinkedIn is organized in the ideal way to participate in conversations, share in-depth ideas and opinions as well as posting blogs or articles and growing your network. Still not sure exactly where to start? Sharing articles that resonate with you and adding a short commentary in your post is a great way to provide thought leadership and start developing your own following.

Twitter
Twitter is one of the top places you will find C-suite executives interacting directly with employees, the public and even investors, ala Elon Musk. Why Twitter? Thousands of tweets are constantly hitting the news feed within Twitter and it provides a great opportunity to react to news and events in real-time. You can directly respond to tweets and get involved in conversations. It is also an ideal tool to stay up to date on current news, gather information and make sure that you are staying relevant through the content you share. Our best tip: make sure that you are keeping your tone and persona consistent throughout all your tweets and replies.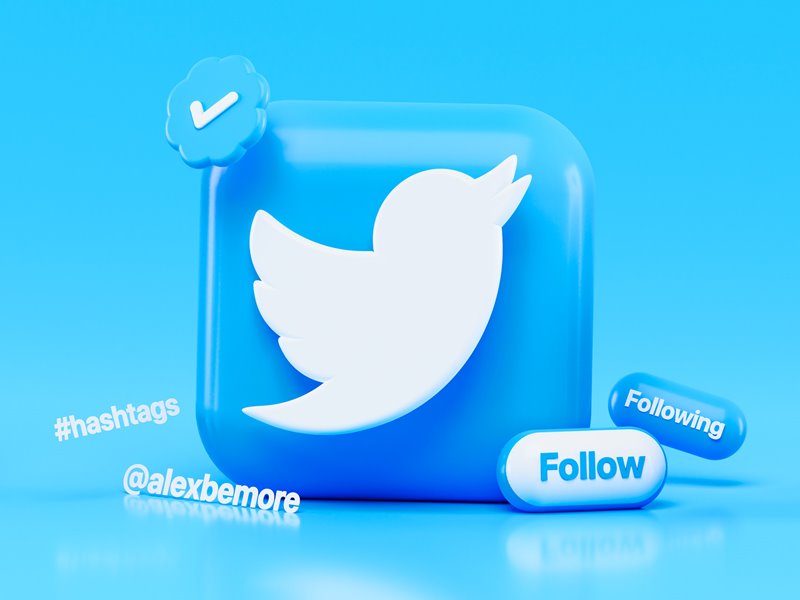 Instagram
Instagram is a fun way to follow other leaders and see what they are up to. You have room to be more laid back and share content that often does not fit on more formal platforms. This is a clever way to show who you are as a person rather than just a professional.

TikTok
Are you super future-focused and like to get out in front of trends? If you really want to go for it and you have the brand to support it. video content is thriving and there is no better way to get involved than with TikTok. You can really let your personality shine through by filming a "day in the life" or participating in viral sound clips. (You can even check out the thunder::tech account for some inspo!)

Things to Avoid
As with anything you post on the world wide web, there are a few topics that you should avoid partaking in as they tend to just stir up trouble. We recommend staying clear of any of these topics to keep your account in tip-top shape while also following internet safety guidelines.
Don't respond to an offensive or negative post by a client or competitor, more often than not, the community will come to your defense before you need to, which, by the way, is more authentic anyway
Don't give out personal information (especially about clients or employees)
Don't post without permission from another team member or client if it involves them
Don't post work-related news before the official accounts do
Don't post about politics, religion or other personal beliefs
Don't talk about financial information, company strategies, passwords, forecasts, legal issues, future promotions or potential clients. If you aren't sure if what you are posting is appropriate, either ask or don't post it at all!

Overall, just remember that if you are connecting back to your organization, you are now representing them and should be aware of what you are putting out there. Even if you do not mention your organization, once you have established yourself as a representative of a company, all posts will appear connected.

How to get started
Now that we have gotten all the technical stuff out of the way, it's time to get started! Here are some tips to help you get things going.
Set aside 15 minutes a day to show off your thought leadership
Engage everyday by commenting, sharing or posting; set a goal for yourself about how many times to post
Remember: things don't need to be perfect, just engage!
Be authentic
Follow other leaders you admire as a source of inspiration and an account to engage with
Just remember, posting and engaging on social media shouldn't be a full-time job. You need to be efficient with the ways you are engaging with others, but it shouldn't be overwhelming. Before you know it, you will be inspiring other leaders and employees to get involved with their online profile, developing your brand even further.
Need a bit more help building out your personal brand or maybe want to strategize a social plan for your company? We have lots of experience in the social world and would love to help you dive into the universe. Contact us today!