Influencer marketing
is an excellent tool for increasing brand awareness, driving product sales, bringing traffic to your website and more. With the digital world
evolving daily
, connecting with quality influencers has become increasingly more complicated and sending out free products for promos isn't enough. Customers are savvy; they know when something is forced and are quick to write off inauthentic brands. But thunder::tech isn't new to influencer marketing. Over the years, we've uncovered what makes consumers convert and that a relationship-first approach is critical. We've looked at some of our recent influencer marketing campaigns, what we did, and our overall outcome, keep reading to learn more about how we helped clients succeed utilizing influencer marketing.
Big Fig Mattress, #FatPeopleHaveSexToo

Big Fig Mattress designed the very first sleep system for bigger figures and built their products from the ground up to serve a niche group. Even with a fantastic catalog, the brand needed influencer marketing to help them build a community and authentically connect with consumers.

When creating the influencer marketing strategy, we knew any campaign would have to make a splash to capture the attention of consumers and media. We didn't want to simply highlight the comfort and quality of the Big Fig Sleep System or its design features through stale product placement; we wanted to generate honest conversations and build authentic consumer relationships through relatable content.

The thunder::tech team developed the influencer campaign #FatPeopleHaveSexToo and paired it with an organic social media plan to establish a well-rounded strategy to reach key demographics. Overall, our goal was to raise awareness of Big Fig Mattress' value, empower the plus size demographic and gather high-level content to repurpose for paid ads in the future.

When vetting influencers, we focused on demographics the brand struggled to reach through other marketing efforts, including Black, LGBTQ+ and Middle American people. Our team chose three creators, handled contract negotiations and provided the selected influencers with a detailed brief, including shot specifications, mattress setup, word choice and content approval instructions. We kept communication channels open throughout the campaign so we could assist with any necessary revisions to assets and captions before providing a posting schedule that connected with the planned social media content.

With fifteen total posts from our chosen influencers, the campaign reached 499.3k people, had over 1.2M impressions and an engagement rate of 4.14% with a campaign total of $442k earned media value (EMV), along with various media coverage.

Through building relationships with established plus-size influencers, we generated authentic conversations while promoting the Big Fig Sleep System as a go-to for comfort and support, perfect for all bedtime activities.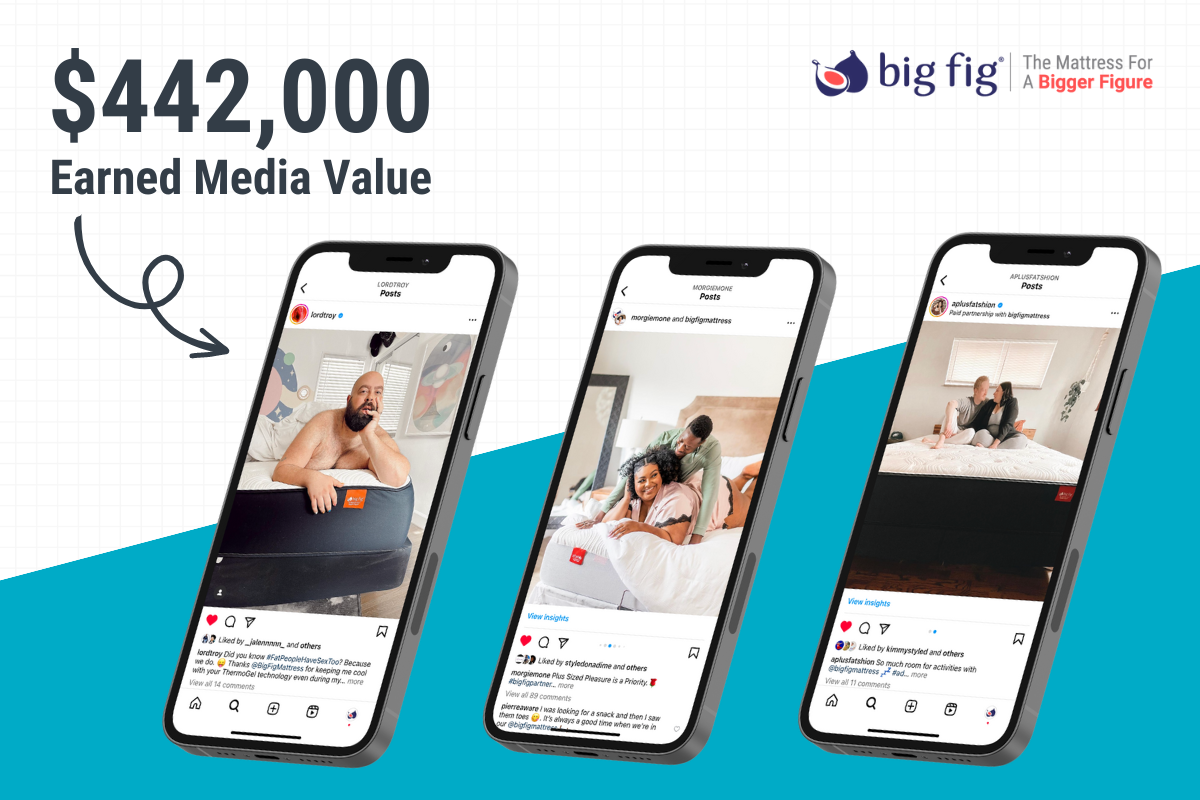 Castaway Bay, #CastawayBaySummer

Families are constantly on the lookout for something everyone in the house can enjoy, but with so many options, brands struggle to stand out, especially if they had to close their doors during the pandemic. After being under construction for nearly all of 2021, we partnered with Castaway Bay to reestablish the property as Northeast Ohio's go-to family destination with an influencer marketing strategy!

Our team developed a seasonal campaign to increase awareness of Castaway Bay's reopening while highlighting the newly renovated and reimagined accommodations. We also wanted to feature the 38,000-square-foot indoor waterpark, unique restaurants, shops and adjacent marina, highlighting the property as a must-stay for all.

Through our search for influencers, we targeted family-oriented creators with audiences of parents with children ages 3-11 based in key drive markets for the property. We selected five influencers to visit Castaway Bay and provided a detailed brief, including content requirements, timeline, guidelines and key messaging. Our team established genuine relationships with each of the selected influencers and helped organize their two-night stays, including food and beverage vouchers, gifts, itineraries and tips for enjoying every minute of their trips.

With the five selected influencers and seventeen posts, the campaign reach and engagement rates exceeded our forecasting by almost double; the campaign reached over 58.1k people and received over 201k total impressions with a 2.4% engagement rate!

We also secured content usage rights throughout the campaign so Castaway Bay could repurpose and redistribute influencer content on other promotional materials, including web, ads and printed marketing materials.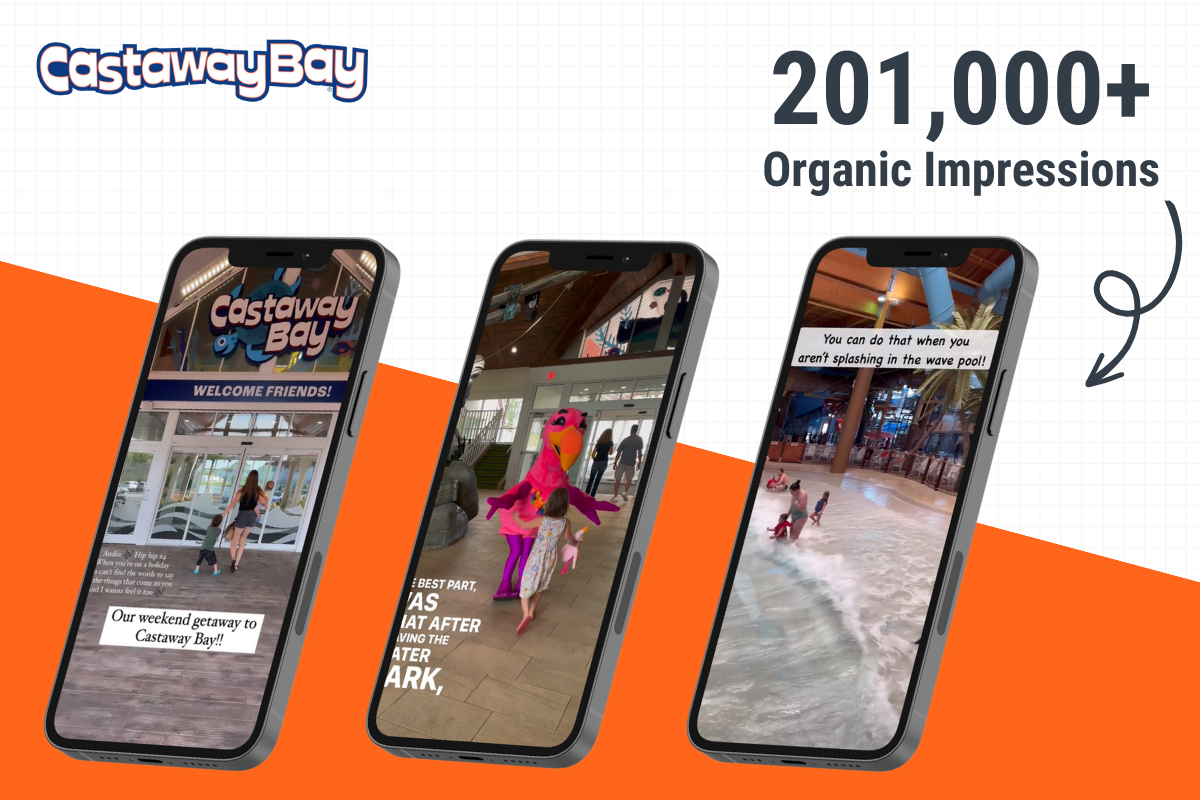 Twin Oast Brewing, #ChillingAtTwinOast
In winter, generating buzz and getting patrons out of their warm homes can be a challenge for any destination or venue. Twin Oast Brewing, a farm-to-fermenter brewery, came up with a cozy alternative to staying in and introduced an igloo village experience for patrons to enjoy no matter the weather. With a great property and experience in our hands, the thunder::tech team developed an influencer campaign with the following goals:
Grow awareness of Twin Oast Brewing's year-round availability, specifically the private igloos for patrons to enjoy and party on a winter's night.
Obtain assets from creators who create high-level content to repurpose for other marketing materials, including promoting the igloos in the future.
We started our influencer search by looking at those with an established audience based in Twin Oast's niche drive market of Northeast Ohio, noting creators ages 25-40 with an interest in food and drink, nightlife and travel. That's how we found Nikki & Bailey from @cravecle, who checked all our boxes! After building a genuine relationship for future campaigns, we provided a detailed brief, visit details and guidelines for content creation, including what the brand wanted to see in the content.
With ten posts, we ensured the creators highlighted Twin Oast as a unique and picturesque experience, reaching over 119k Instagram users and 10k TikTok viewers. With over 742.2k impressions, the campaign was largely successful, generating $136.1k EMV.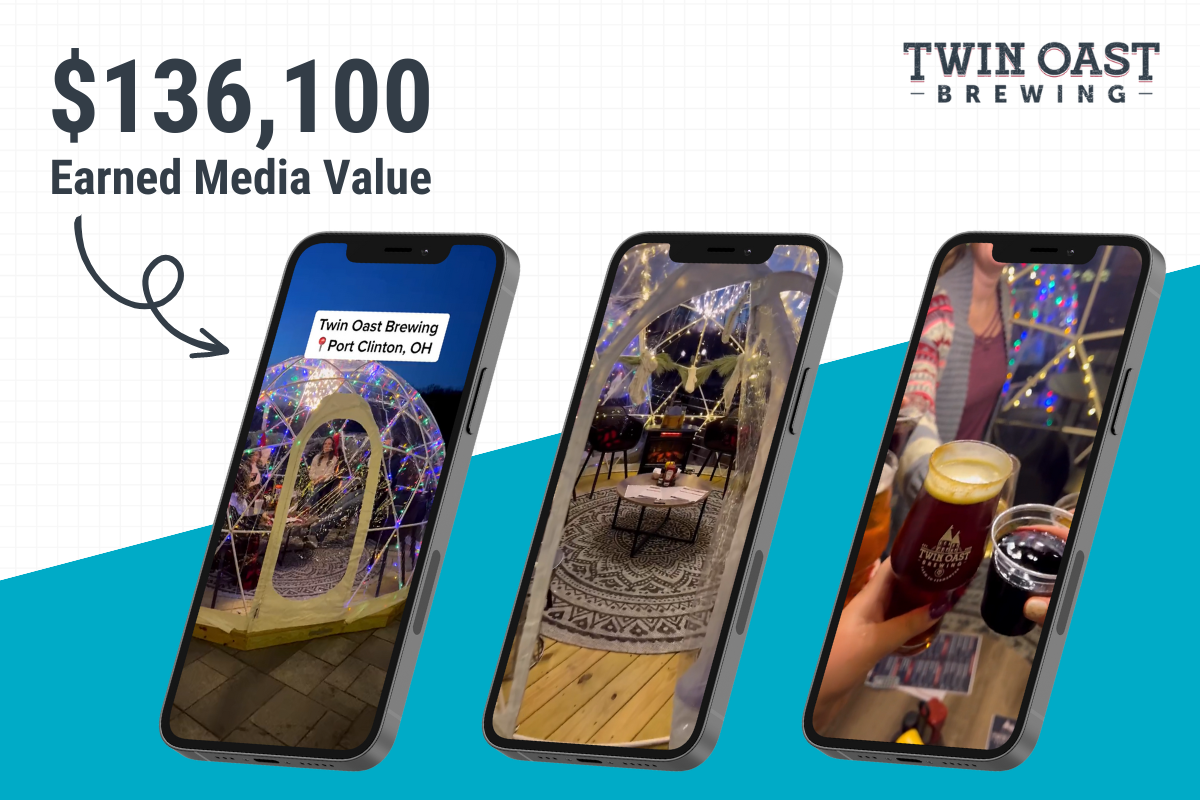 Sawmill Creek Resort, Season of Joy
It's hard not to get excited when the holiday season comes around, and Sawmill Creek Resort wanted to do something extra special to spread cheer to their guests – Season of Joy. Starting mid-November and stretching through the end of the year, the Season of Joy event offered festive community activities, light displays, food, music and memories. The only thing missing? A plan to get the word out to the right audience.
We proposed running an influencer marketing campaign to generate excitement about the event and get content to use for other marketing collateral. When vetting influencers, we searched for creators with both audiences living in the drive market and interested in traveling and food and drinks. After choosing the creators, our team handled pre-event communication, including contract negotiations, creating content creation guidelines and supplying all relevant documents for the influencers' stay.
We invited each influencer to attend the Season of Joy inaugural weekend with the task of capturing images and videos for future posting as well as posting to their Instagram Stories in real time so their audiences could experience the event first-hand. After the event, the influencers used the content they captured to create in-feed posts to continually encourage viewers to attend Season of Joy.
Our goals for working with the Season of Joy influencers were:
Build brand awareness for the newly renovated Sawmill Creek Resort 
Encourage viewers to attend Season of Joy 
Put Sawmill Creek Resort on the map as an exciting event location 
The four influencers collectively produced 78 posts that pulled in 606.4k impressions and reached 11.9k people on social media.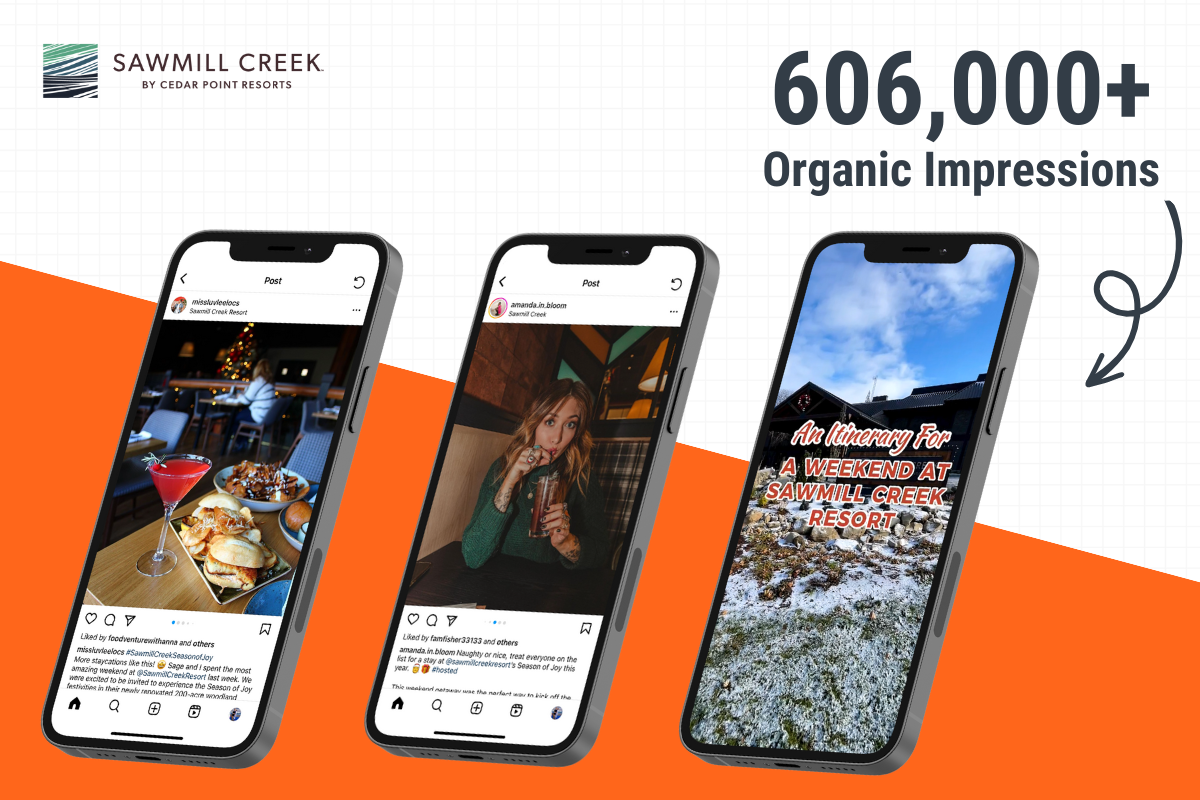 Consumers Energy, #ForceofChange
What we do and how we live impacts not only our day-to-day lives but also our planet. While a single step toward sustainability may seem small, these efforts can result in a ripple effect and create a lasting change. Our team partnered with Consumers Energy to carry out this goal by developing an influencer marketing campaign to educate and unite Michiganders around a common cause: conservation. 
Our team decided to launch an influencer marketing campaign to share how everyone can practice sustainability at home and show Consumers Energy is here to help in all energy-saving efforts. As Consumers Energy is a Michigan-based public utility, it only made sense for our team to work with influencers not only local to Michigan but living within specific service areas. We chose three influencers who created content in the form of Instagram carousels and Reels to inform their audiences about sustainability, including ways they've personally made eco-friendly decisions. The posts also educated users on the efforts made by Consumers Energy to create a more sustainable community for all. The goals here included: 
Build positive brand awareness for Consumers Energy's eco-friendly efforts, including wind, hydro and solar energy initiatives.
Educate Michiganders about practical ways they can conserve energy.
Set Consumers Energy on the map as a resource and thought leader in sustainability.
#ForceOfChange generated a lot of buzz on Instagram, with the campaign totaling 360.4k impressions and reaching over 82k users. One influencer, Jackie, provided her audience with travel-themed content; Nick, another influencer, shared stunning nature images; and Liz, the third, welcomed users into her home to talk about energy-saving tips. Through a variety of content made specifically for each audience, #ForceOfChange generated over $80k of earned media value, making this campaign incredibly successful in a niche market.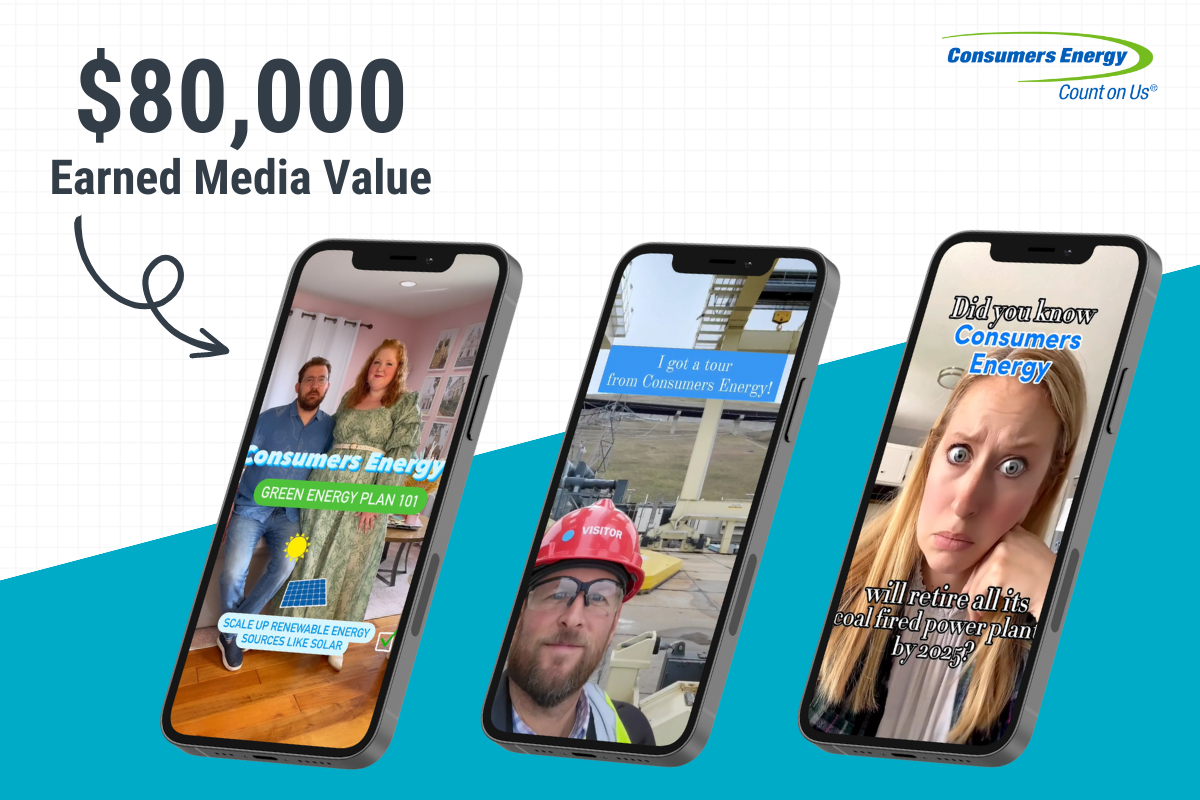 Influencer marketing is a fantastic way to connect with your desired audience without building it from scratch, as influencers have already worked to establish genuine relationships with the audience you're trying to reach. But setting up a clear strategy and campaign takes time and resources! thunder:tech's experts will customize a plan that suits your needs and handle all the details, from vetting and contracts to post-campaign reporting.
Our team is ready to help you reach your marketing goals!
Let's Connect!