This post was inspired by a recent phenomenon we've observed in online advertising, particularly paid search. AdWords, Google's advertising network, has become such a valuable resource for sales and leads that many advertisers are willing to pay more per click than the total cost of the product they are advertising. For example, ecommerce advertisers are paying $2 per click on certain keywords for products that only cost $1. This post aims to explain the reasons why advertisers are willing to reach beyond their margin and how to determine if your business should consider spending in the red as well.
A Customer's Lifetime Value (LTV) Can Make up the Difference
It's easy to get fixated on the margin, but to truly understand the value of each keyword and each customer, advertisers should consider all of the ways their customers can add value to their brand. For example, one AdWords click can result in all of the following:
Repeat purchases
Bulk order quantities
Related product purchases
Influence to purchase through a different channel
Word-of-mouth advertising from social media engagement
SEO benefits from user-generated content
A positive online review
How To Calculate Customer Lifetime Value of Each Keyword
Repeat Purchases
Repeat purchases are the most obvious LTV metric to measure, so let's start there. The most granular way to view data specific to repeat purchasers is to create a custom segment in Google Analytics. The custom segment will look like this: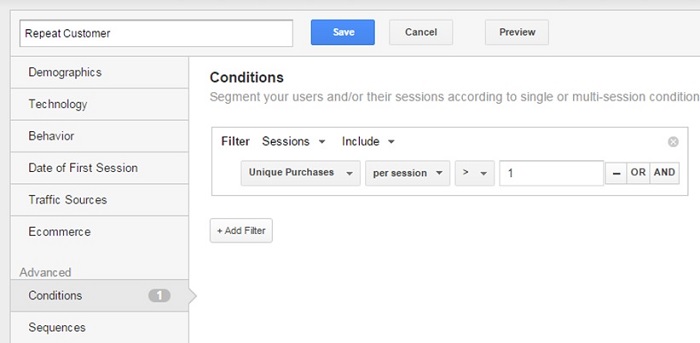 With your new custom segment enabled, navigate to Acquisition -> AdWords to view a broad range of data including the keywords that lead to the most repeated purchases.
Bulk Order Quantities
Another way to determine if a keyword is worth the extra cash is to look at the average order quantity of each keyword. To view this data, simply navigate to the Conversions -> Ecommerce section of Google Analytics.
Related Product Purchases
Enable the "Related Products" feature within the Admin panel of Google Analytics to view AdWords keywords that have resulted in the sale of more than one product. This feature is relatively new and can be tricky to set up, but thunder::tech's friendly Optimization Team can help if needed. This data will appear in the Conversions -> Ecommerce section of Google Analytics.
Influence to Purchase through a Different Channel
Sometimes users enter your site through AdWords, leave and then come back later through a different channel to make a purchase.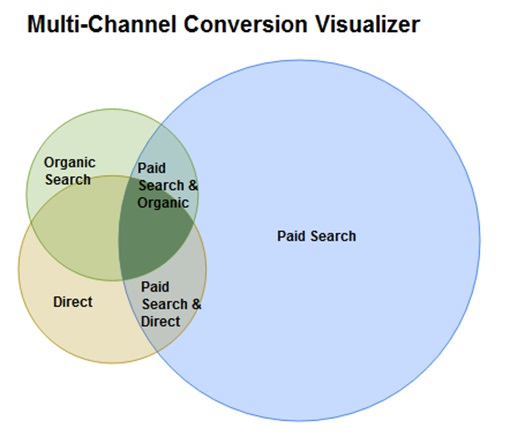 This is particularly common in general brand awareness campaigns within the Display Network. When this happens Google Analytics will attribute the conversion to the most recent channel used, not AdWords. This is precisely why Google created the "Assisted Conversions" report under Conversions -> Multi-Channel Funnels -> Assisted Conversions. When in this report, make sure to select "AdWords" under Type before beginning your analysis.

Set the primary dimension to "AdWords Keyword" to view the keywords that have led to the most assisted Conversions.

All four of these metrics can be useful in determining if it's worth it to spend the extra cash on one particular keyword.
How To Measure Word-of-Mouth Advertising on Social Media From an AdWords Click
Measuring this is difficult and not entirely accurate, but we can get some data from Google Analytics. The easiest way to measure word-of-mouth advertising on social media from an AdWords click would be to set up event tracking on each social media share button across the site.

With event tracking set up, navigate to Behavior -> Events -> Top Events with the "Paid Traffic" custom dimension enabled and look for the category you assigned the share buttons. This report will show a small portion of the AdWords clicks that resulted in shares on social media. Users who do not use the on-site social sharing buttons to share your brand on social media will not be tracked. Regardless, this metric can be used to further support an argument for spending beyond your margin in AdWords.
Need help setting up event tracking? Contact thunder::tech's friendly Optimization Team.
How To Measure SEO Benefits From an AdWords Click
I know what you're thinking, and the answer is no. Spending money with Google on AdWords does not directly increase the rankings of your keywords in organic search. However, there are a few indirect benefits:
A/B Testing of Ad Copy
The A/B tests you run in your AdWords account can help you decide the best copy to use in your meta descriptions. Using better copy in your meta descriptions can help increase the CTR of your organic listings in organic search results. Meta description CTR in search results can be measured by navigating to Search Traffic -> Search Analytics within Google Webmaster Tools.
Backlinks & Social Shares
Sending AdWords traffic to a valuable piece of content on your site can result in backlinks and social shares for your domain. These backlinks and social shares can increase your domain's authority and increase organic keyword rankings for all of the keywords on your website. The number of backlinks and social shares your content has received can be measured by a variety of tools including Open Site Explorer or ahrefs.com. It won't be possible to attribute the backlinks and social shares to AdWords unless you're only sending AdWords traffic to one specific landing page that can't be accessed from any other link on the website or through organic search.
Brand Authority
According to a Google study in 2012, having more listings in search results increases brand authority and ultimately leads to more traffic. When users see your brand in a paid position, and again in an organic position, it increases CTR of both paid and organic listings because users perceive the brand to be more authoritative. The best way to measure this is to gather statistically significant data for a theme of keywords (i.e. all keywords related to "puppy toys") in AdWords that your site is also ranked for organically and then turn off AdWords for those keywords and measure any differences within the Search Traffic -> Search Analytics section of Google Webmaster Tools.
How To Determine if an Online Review Came From an AdWords Customer
There really is no way to know if a customer came from AdWords, purchased a product and later left a review somewhere off of your site. However, depending on your CMS and Marketing Automation software, you could see if an AdWords click later led to a product review when the review is left somewhere on your site. For example, when you purchase a product on Amazon, you will occasionally receive an email a few weeks later asking for a review. With the correct segmentation and code, Amazon should be able to see if an AdWords customer later left a review on their site. 90% of Customers say buying decisions are influenced by online reviews, so when you receive a review from an AdWords click, you should assign a value to that review and attribute it to your paid search media channel.
Summary
In summary, every brand should at least test AdWords even if the CPC of the keywords you'd like to target seems too high. Using the measurement techniques outlined in this post can help you justify your spend to yourself or to your boss. Again, if you need help with any of the measurement strategies mentioned in this post, contact thunder::tech for help.