Consumer engagement is a crucial component to the success of any marketing campaign, but generating the traction to interact with your content can be a challenge. After crafting, planning and publishing the most perfect piece of content you've ever created comes the scary part, waiting to see if your audience interacts with it. Enter: User-Generated Content, or UGC.
A blessing to content creators everywhere, UGC, when executed correctly, will feel as if someone did your work for you. Plus, your customers will love it. On top of that, UGC has a snowball effect encouraging even more people to engage with your brand as your current consumers share their experience on their page. What more could you want?? Let's learn more.
What is User-Generated Content?
Traditional marketing strategies require you, the brand, to create and publish almost everything that focuses on your company's products and services. But UGC passes that responsibility off to the customer. User-generated content is any brand-specific content, whether it be images, video, text or other, created by a person, not the brand. For example, it can be as simple as having customers take photos of themselves using your product. It is content created by customers for customers.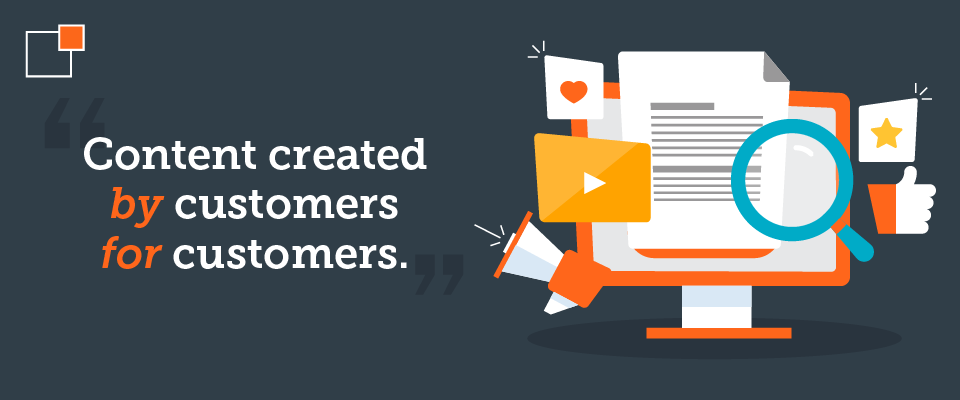 Where Does User-Generated Content Come From?
So, who's making this content if your marketing team isn't? The people! Customers, brand loyalists, your employees and content creators are all possible sources of UGC. Sharing experiences on social media has become a natural response. For example, after a vacation, you post photos from the trip including stops at a few restaurants and local shops. That's a form of UGC! People don't always think about this when they post, so it's up to brands to keep an eye out!
Influencers are an inorganic form of UGC; they emulate traditional posts but have a paid contract to do so. But don't let that discourage you from taking advantage of
influencer marketing
, as it has become a hugely successful tactic. In fact,
14% of 18-24-year-olds
and 11% of 25-29-year-olds have purchased a product or service, within the past six months, simply because an influencer recommended or promoted it on social media.
How Does User-Generated Content Increase Engagement?
Created Authentically
Organically created content comes across as more authentic and trustworthy than traditional marketing. Consumers are
2.4 times
more likely to see UGC as more authentic compared to content created by brands. People want to hear from other people. And positive reviews and testimonials about a product or a service are huge;
72% of consumers
say they trust a business even more after hearing a recommendation from someone else, even if they don't personally know them.
UGC is basically a testimonial saying, "Look what I bought! I love it so much I took the time to post about it on the internet, so you know it's awesome." Pretty convincing, right?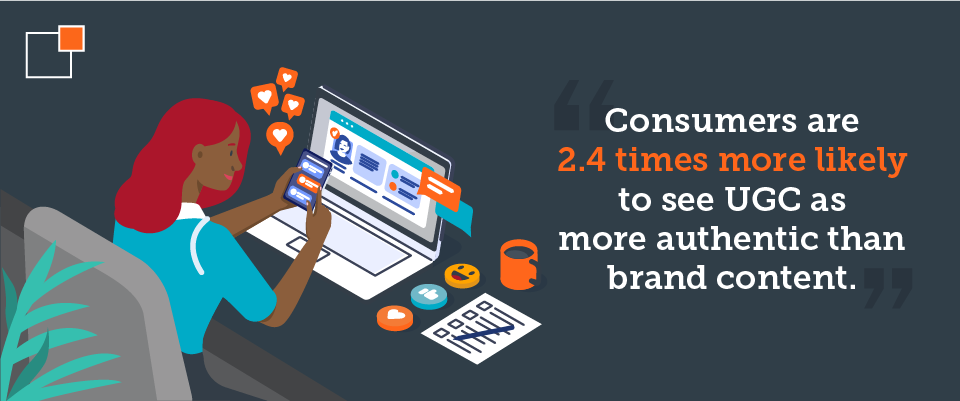 Now compare that message to one with a b-list celebrity stiffly holding a product and delivering a clearly crafted message to the camera. It doesn't have the same pizzazz and authenticity as a message coming from someone you can relate to. You don't necessarily believe the words coming out of their mouth.
UGC is off-the-cuff and unscripted, coming straight from the consumer. You can't get more authentic than that.
Establishes a Sense of Community
UGC opens up the conversation between your company and the consumer, and once that starts, you can further develop that relationship to build a community around your brand. It's a way for people to share their opinions and experiences with something they've used or experienced—and it can be a great way to get more people talking about your brand. One post can encourage a whole conversation with your audience that will eventually break off to form new threads.
Consumers can participate in the growth of your brand powerfully and effectively. UGC also helps build brand loyalty by allowing customers to interact with your company on a more personal level than traditional advertising methods allow.
Your community can grow outside your personal audience to develop relationships with like-minded brands with a similar community to you.
Harnesses the Power of your Audience
Encouraging your audience to post or share content about your brand is an excellent strategy because it gets people to join the conversation and floods you with more content to use down the line. For example, you can host a contest where customers take pictures of your product in different locations around their city or ask them to tell a story about their favorite memory influenced by your product or service.
Giveaways are also fantastic because it requires minimal effort from either party with a strong outcome. You've likely seen a popular example of this form of UGC on Instagram or Facebook. A brand will ask its audience to comment and share one of its posts to enter a giveaway raffle. Earlier, we mentioned building a relationship with similar brands; creating a joint giveaway that includes products from multiple brands is a great way to get that conversation going.
Increases Brand Visibility
Breaking out of your current bubble of customers can be challenging, but UGC helps get you in front of new people. Hundreds of thousands of posts go out daily on platforms like Facebook, Twitter and Instagram, so you need to be different to stand out from the crowd. UGC helps break through all that noise because of the unique format that encourages human interactions and sharing. You are showing the human side of your business.
When someone else shares your product or service on their own page, a whole new audience who may have never even heard of your brand before will see that shared post. The more people hear about your company and what you do, the more likely they will become fans and recommend you to others.
How Do You Find Organic User-Generated Content?
All right, clearly, UGC is awesome, and it's time to incorporate it into your marketing calendar, but where do you find these magical posts? There are a few ways! The first way would be simply searching the brand name on a social platform and shifting through what comes up. Additionally, you could look under the Instagram Geotag location or if the brand has a hashtag for mentions.
There are also various programs that help you find UGC. Most, if not all, social media management tools have a community management feature built within to help with UGC. Some popular programs are
Later
,
Sprout Social
and
Brandwatch
to name a few.
IMPORTANT:
Before taking and using any images or content from your audience, be sure to
always
ask for permission! Below is an example of how to reach out to the consumer when you want to share their content.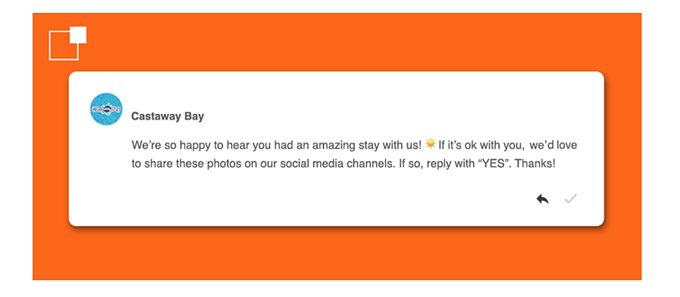 Bonus Benefit to UGC
Thought we were done? We couldn't leave out this benefit of UGC: it's affordable! It's easy to implement, cost-effective and provides long-lasting results, making it the perfect solution for small to medium-sized businesses that need help marketing their brand. Not only does it lighten the workload of your marketing team by passing off the creation process to the consumer, but it also decreases your marketing expenses. This can be especially helpful when you have a small budget and want to focus on quality over quantity.
Types of User-Generated Content
I bet you're itching to start incorporating UGC into your marketing strategy by now, so we've got a few ideas of types of UGC to get you started.
Images
Testimonials
Social posts: tweets, shares
Product reviews
Blogs/ wish-lists
Videos
Competitions
UGC is a powerful tool for brands to increase engagement with their audience by tapping into the power of social media and its ability to create a highly engaged audience. The authenticity of content created by consumers makes UGC one of the best ways to advertise your brand. From stimulating traffic to fostering engagement, it's a fantastic way to market your business while simultaneously decreasing marketing expenses.
Do you know who absolutely loves UGC? Our
social team
. And they would be thrilled to help you build UGC into your current marketing strategy or jump in wherever you're at in your social media journey.
Drop us a line, and we can get connected!