Have you ever wondered how brands manage to push out memes at the speed of light? Or how something can happen on live TV and brand accounts are tweeting about it two minutes later?
Things are in constant motion these days. People are consuming content at an incredible rate and if your brand is to keep up, you've got to have a great plan and process in place for knocking out quality content quickly.
That's why one of our favorite hacks for keeping your creative assets organized and your design team working efficiently is a content hub. With a content hub, your brand can be the one to step up to the plate at the drop of a hat.

What is a Content Hub?
A content hub is an organized collection of assets a brand has on hand and ready to deploy. This includes digital assets like logos, color cheat sheets, pre-made graphics with changeable text, landing page templates, brand/product photos and more. There's no wrong asset to manage in a content hub as long as it fits your brand and facilitates quick publishing.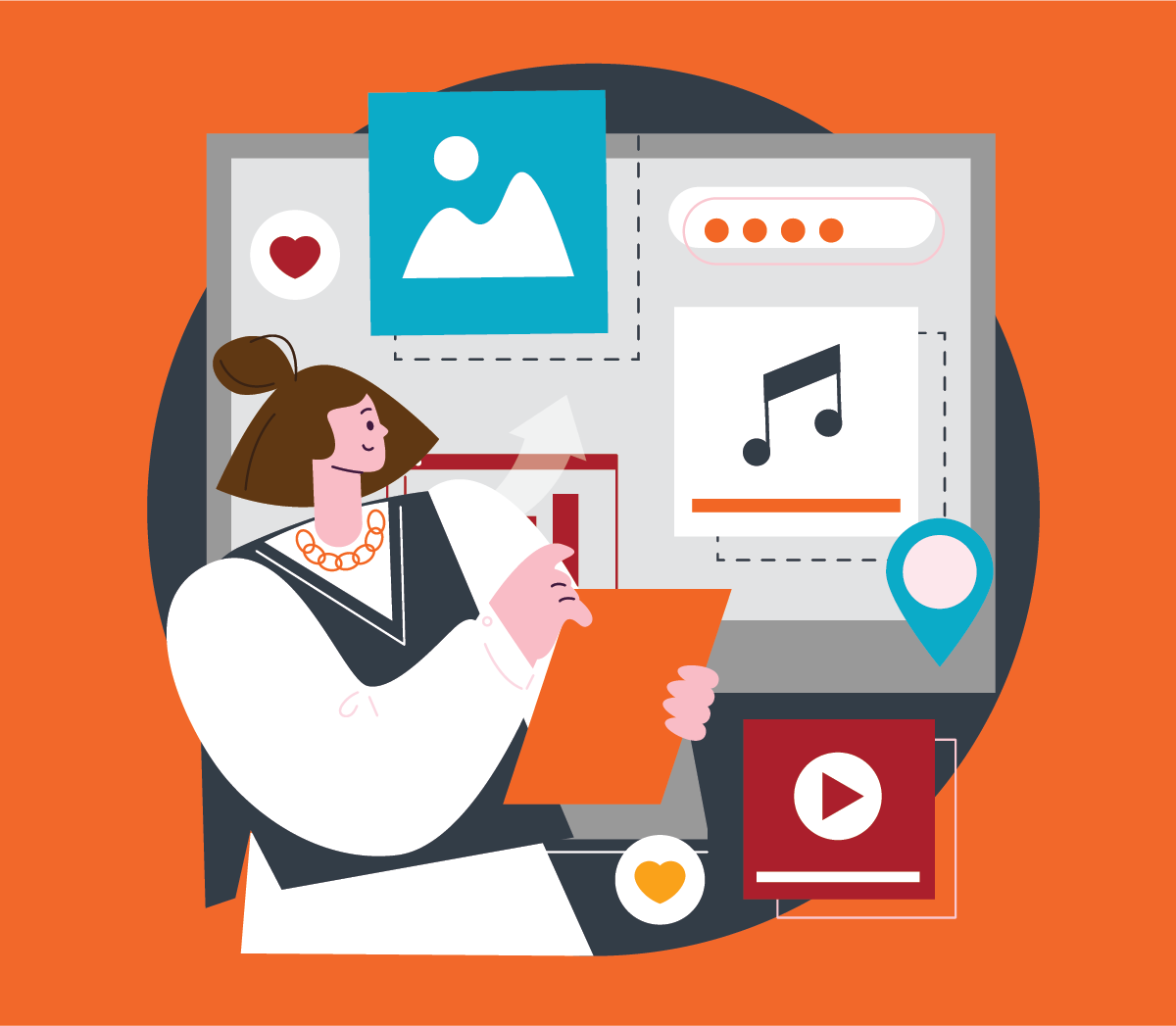 Telling your brand's story creatively through various forms of content (video, memes, articles, photo galleries, etc.) is one of the best ways to capture your audience's attention. Doing that takes strategic planning, with easy access to marketing assets.

These assets should be easily accessible to anyone who needs them no matter where they are. With a world thriving off the hybrid work model, accessing services outside the office can be a hassle. Instead, house digital assets with software like Adobe Creative Cloud so your team can pull what they need when they need it.

Why start a content hub?
Pumping out a ton of content can seem like you're sprinting on a speeding treadmill, trying to keep from flying off the back end. But a content hub gives you a way to pull pictures, snippets of text or video clips together instantly with everything already approved and on brand.

Today, it's not quality over quantity, it's quality and quantity that consumers are demanding. They want that really on-brand, polished, elevated piece, but they want it right now. A content hub allows you to have the tools to deliver both those things. It gives you the ability to sprint on that treadmill when you need it.

What can you produce with a content hub?
The short answer: anything you want! The point of a content hub is to keep all the bricks on hand for when you're ready to build the house. You can use the assets in your content hub to create any of the following: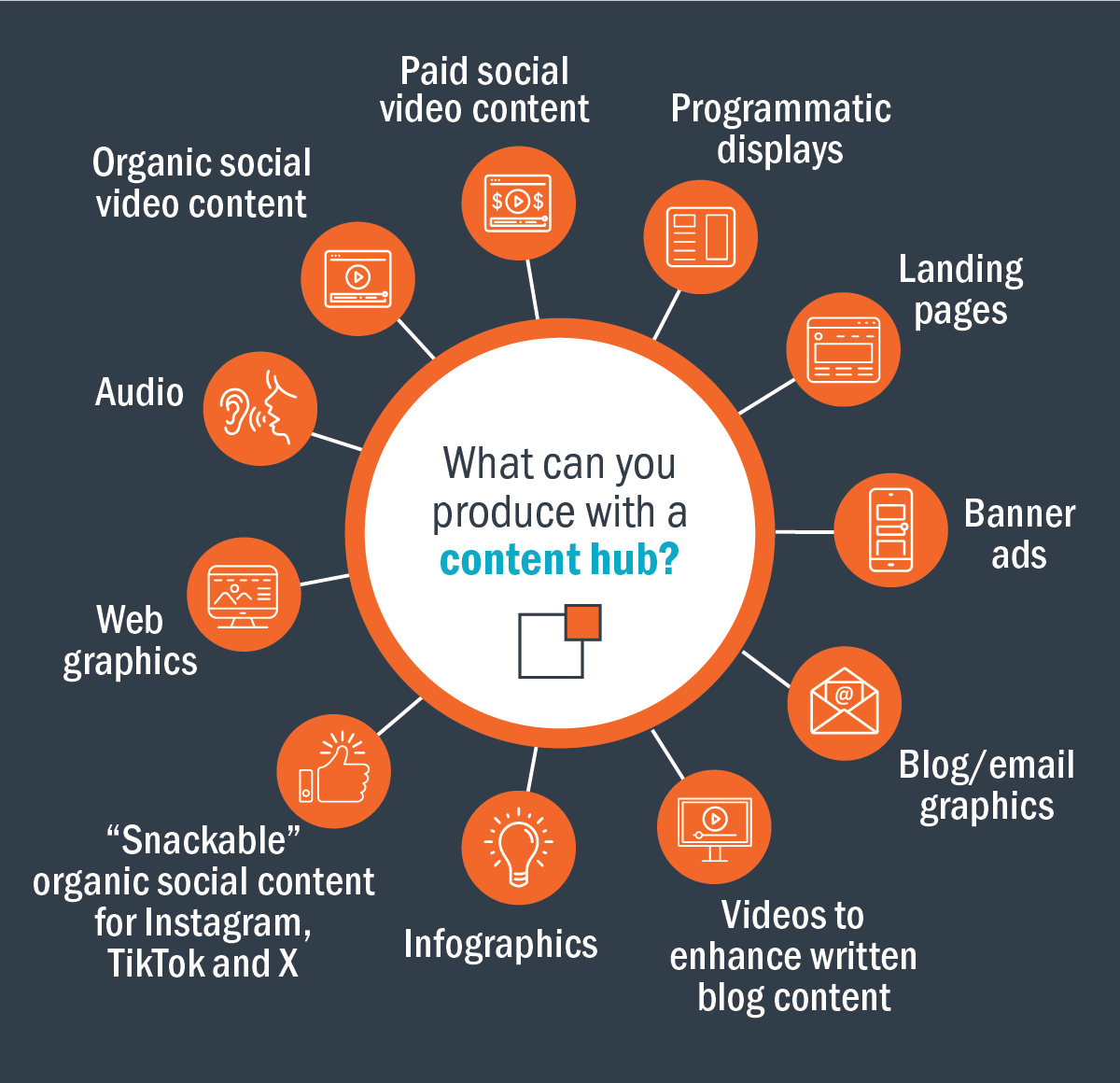 Depending on the assets you have on hand and the purpose of your content, you can create any and all of the content types above. It's up to you to decide what's most timely in that moment and what will make your brand stand out with design work that goes the extra mile.
How to create a content hub
There are seven easy steps to get started with your very own content hub. Whether you're building from the ground up or have a few assets stored in one Google Drive folder, here's how you can bring it all together.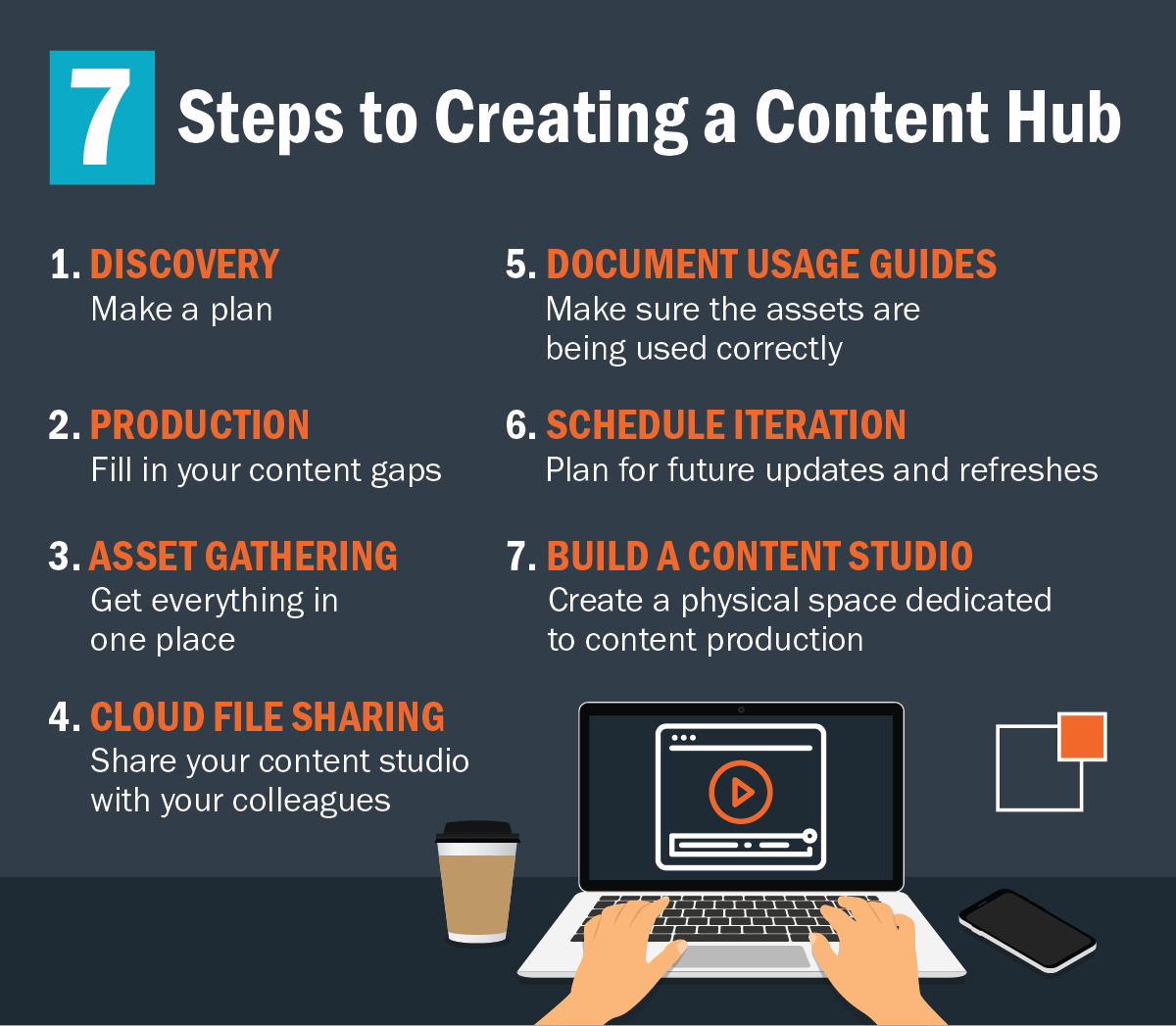 1. Discovery
Sit down and make a plan before you spring into action. What does your brand need more of? Less of? What assets (digital and physical) do you already have on hand? Where are they stored?

See if you have assets (and if so, what kind) based on your buyer personas or areas of opportunity that you've identified. If you have gaps, note them so that you can start filling them in with content. That may mean leveraging items you already have or you may discover that you need new photography that speaks to a specific industry, or some new messaging that speaks to a certain consumer segment.

The most important thing you should leave this step with is a list of identified key assets that you will need to create or gather into one communal space.

2. Production
What goes into this step depends entirely on that list you generated in step one. You may need to go as far as shooting a large piece of video content that you can break apart and use for future content needs. Video, in particular, can take a long time to produce from scratch (see step 6). Video, in particular, can take a long time to produce from scratch. But having B-roll on hand of your product, your environment and people using your services goes a long way toward building out a video clip. Having standard, branded intros and outros for videos is another way to stay consistent and pull together a quick video with a solid message.

After video, if you have not already created or edited certain graphics like logo applications, type styles or product images, you should do this now. Then create photo and video templates that can be easily edited and reused. Make something you can drop into Adobe Premiere Pro or Rush and quickly change out text or imagery.

3. Asset Gathering
Party time! Invite all the assets you want in your content hub over for a soiree (you can ask the assets you already produced in step 2 to handle food and decorations). The goal here is to get everything in one place that everyone can access, i.e. a shared Adobe Library or other cloud storage platform. You can also use Canva here to store certain photo-based templates.

One of the biggest tips to remember here is naming conventions. Everyone's brain works differently, and if you leave every person on their team to their own devices, you'll end up with chaos, i.e. 100 folders when you need ten, mystery files with indecipherable names and files lost to time. Be sure to establish a folder structure and file naming system in advance to avoid confusion later on.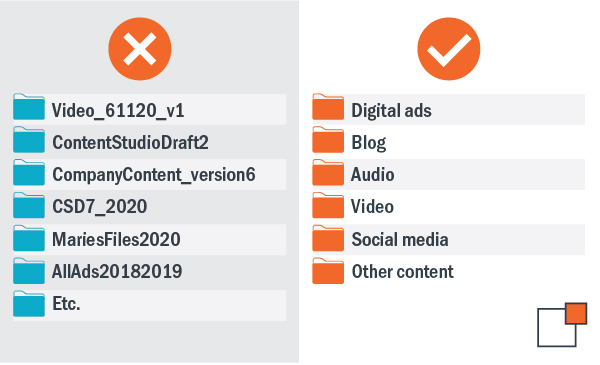 4. Sharing is caring
Share the asset gallery you created in step 3 with everyone on your team. No one should get left behind here, so we recommend sending out a follow up announcement or email to double check that everyone who wanted an invite to the party got one and everyone is prepared to handle the content hub with the appropriate solemn gravitas and responsibility asset production deserves.

5. Document your usage
Next create a usage style guide detailing how to properly use your new assets. This is basically the rulebook for your content hub. It should also be stored in the content hub cloud for easy access.

For example, you could specify that the font size on certain templates should always remain the same. Or that you have a certain amount of flexibility with your organic social graphics, but you shouldn't go beyond specified restrictions. This note will come in handy when you read a bit further, but don't forget to include instructions on how the physical space is meant to be used as well (i.e. please neatly fold and put away all the flamingo puppets when finished filming).

6. Iterate!
Your content hub, like most things in marketing, is not a one-and-done situation. Pre-define a set interval of time before you will revisit your content hub library and give it a little refresh. Make sure your assets are still updated and relevant and add anything missing to the cloud.

This should be done annually at the very least, but preferably quarterly. Your content hub check-in frequency really depends on the shelf life of your campaigns. If you switch campaigns every month, you should be updating your content hub more often. And you should always take stock of the hub after a huge rebrand or big campaign change!

7. Create a Physical Content Studio
This step is optional, but highly encouraged! Select a dedicated physical space, easily accessible to multiple teams, that allows for fast and efficient branded content production. It houses A/V equipment, cameras, props and branded physical assets, removing the hassle of constant setup and teardown.

Content studios can take up a corner of the office, an old broom closet or even an entire room, depending on what you have available. It just needs to be fairly quiet (or quiet some of the time) and should have a decent amount of space for storage.

The final product depends on how much space you have, but a basic list of inventory for a content studio includes:
Photo/video equipment (Cameras, stabilizers, ring lights, microphones)
Set design (Product shoot surfaces/backdrops)
Branded assets (Signage, logos, mascots, other branded props)
Props & decor (cutlery, cutting boards, candles, books, etc.)

While it's great for creating branded evergreen assets, a physical content studio is exceptionally useful for feeding perpetually hungry social media platforms. As video-heavy channels like Instagram and TikTok capture user attention, you can pop into your content studio space to capitalize on trends, shoot a few photos for a last-minute post and execute your best, spur-of-the-moment ideas.


NOTE: Don't let the idea of a physical content studio confuse you with your content hub. While one feeds the other, they are in fact different.

Content Studio: A physical space dedicated to producing new assets.

Content Hub: An organized collection of assets a brand has on hand.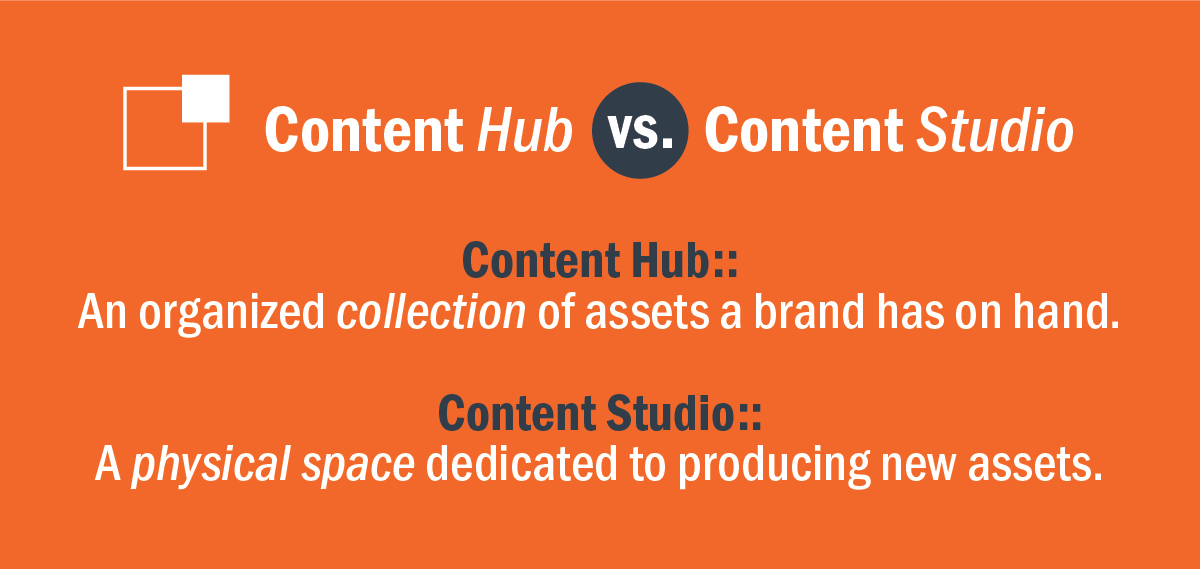 How much time will this take?
There are typically two ways companies go about building their content hub: all at once, or over time. There are pros and cons to each method.

Going all-in means a significant amount of effort aimed at developing a robust, all-inclusive content library. You identify all the pieces you need and decide to invest the time and funds into creating everything immediately. You then have it for the rest of the calendar year and into the future.

The downside, of course, is that it's a lot of effort up front to generate everything, and it can be expensive. And some companies, especially middle-market companies, may not have the internal resources or budget to do that, especially on top of daily work.

The alternative is a slower and steady approach. Set up a physical space, organize all your assets, identify gaps and then, as time allows, start to generate more content. Using past product photography and imagery used in previous campaigns, you can create reusable templates ready to be used as the year goes on. The pro side of that is there's less effort and expense right up front. That's spread out across the whole year, so nobody's breaking their budget on Q1. The downside of that is that you may not have enough content to meet your needs right away.

There's also a hybrid approach where you can bring in a third party to generate the beginnings of your content hub, and then they give you the keys and you have all the assets you leverage throughout the year. Together, you can build on the inventory on a continuous basis.

As content hubs become less of a "nice-to-have" and more of a "must-have," putting a strategy in place and getting started is something you should be thinking about now if you haven't already. Do you need help getting things started? That's what we're here for – contact us today!


Editor's Note: This post was originally published in August 2020 and has been updated for accuracy and comprehensiveness in October 2023.